BOSTON -- The way Avery Bradley tells it, Boston Celtics captain Rajon Rondo was chatting about playoff chances with his teammates recently and, despite coming off the worst calendar month in team history, suggested that "anything is possible."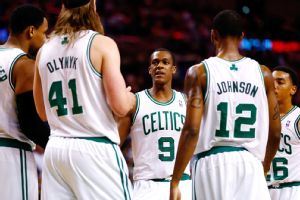 Alex Trautwig/Getty Images
Rajon Rondo's return has given the Celtics a confidence boost.It almost assuredly didn't come out like his buddy Kevin Garnett's caps-locked "ANYTHING IS POSSIBLLLLLLLE!" after the 2008 Finals, but Rondo's sentiment is no less lofty.
After Sunday's win over the lottery-bound Orlando Magic, the Celtics owned a mere 5.1 percent chance at making the playoffs, according to Hollinger's computerized playoff odds. For the guys inside the Celtics' locker room, that's just enough to go full Lloyd Christmas: "So you're telling me there's a chance!"
Call them disillusioned, but with Rondo back -- and looking more like his old self during Sunday's win -- these Celtics have talked themselves into the possibility that they could make an honest-to-goodness playoff charge.
"[Rondo] lets us know that anything is possible," said Bradley. "If we come out strong [in the second half of the season], we have a chance to break off a run and win eight games straight if we play harder than everybody else."
Is this true, captain?
"We have an easy month [of February] as far as scheduling wise," said Rondo. "I think we only play 11 games this month of February. A lot of winnable games, so I don't think we could use the excuse of beating ourselves anymore. I think we need to come out and execute and try to get some wins. We're not too far out of the playoffs. Keep hope alive."
Yep, Rondo is invoking Jesse Jackson in Boston's playoff quest. Listen, we all know Rondo's pretty good at numbers, he understands the long odds against his team. He also knows full well that he alone can't rescue a flawed team.
Rondo knows that the odds of a playoff spot this season are slimmer than him losing consecutive games of Connect Four, but it's still encouraging to see Boston's new leader trying to rally the troops and keep them playing hard at a time when mounting losses might have encouraged young guys to just go through the motions the rest of the way.
A week back, as his team was closing out a 2-15 January, first-year coach Brad Stevens was asked if he was familiar with Jim Mora's ubiquitous "Playoffs!?" rant.
Stevens smiled and deadpanned, "I am an Indianapolis guy."