WALTHAM, Mass. -- It was almost certainly by design that, on the first play of Sunday's win over the Orlando Magic, the Boston Celtics sent Jeff Green into the post looking to establish him early in a spot that they are desperate to see him in more often.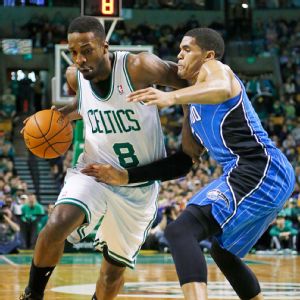 Yoon S. Byun/The Boston Globe/Getty Images
The Celtics are trying to put Jeff Green in position to take advantage of favorable matchups in the post.Green caught the ball on the blocks, tried to back down Tobias Harris but met immediate resistance, and settled for a baseline fadeaway that clanged off the iron. According to Synergy Sports data, it was one of only two shots out of post-up attempts in the game for Green, both resulting in misses.
On a feel-good day in which the Celtics shot 50 percent as a team for the first time since early December and emerged with a rare win, Green finished 2-of-13 shooting with eight points, the only starter not to score in double figures.
Here's the concern: Rajon Rondo is back after a yearlong absence and starting to look like his old self as he shakes off some rust; Avery Bradley has shown tremendous strides in his offensive game while being one of Boston's most consistent two-way players; and Jared Sullinger is blossoming in his second season, even while playing out of position as an undersized center.
Green? He failed to distinguish himself when anointed the focal point of the offense without Rondo at the start of the season, has shown mere glimpses of his obvious potential (31 points vs. Cleveland in November; 39 points vs. Washington last month), and simply has failed to display the sort of advancement one would expect from a 27-year-old with his talents on a rebuilding team.
For his part, coach Brad Stevens refuses to lament what Green has failed to do. Instead, he's put Green's failures on himself and his coaching staff while pledging to put Green in better position to succeed moving forward.
"All of us have had our games where we didn't do our jobs as well as we would have liked to," Stevens said. "To put that on him is not fair to him. I support him. I think he's going to play really well throughout the rest of this year. … My focus isn't necessarily on how he's done so far, but more on how can I help him to be the best he can be every day."