BOSTON -- If anyone worried that the security of a rest-of-the-season deal might diminish Chris Johnson's hunger, then they don't know Chris Johnson.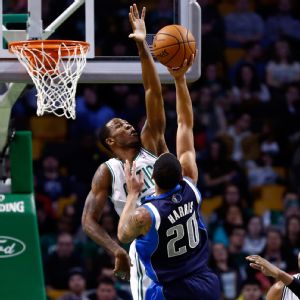 Mark L. Baer/USA TODAY Sports
Chris Johnson tries to block a shot.After signing two 10-day pacts with the Boston Celtics, Johnson inked a contract Friday that will keep him here the remainder of the 2013-14 season and for as much as three years beyond that (though none of the final three years is guaranteed). Johnson is still trying to make an impression every time he's on the court, and good things are happening when he's on the floor because of that.
Johnson scored all 14 of his points on 4-of-6 shooting while connecting on four 3-pointers in the fourth quarter of Sunday's 102-91 loss to the Dallas Mavericks at TD Garden. Johnson was plus-12 in the fourth quarter and a team-best plus-7 overall for the day. He filled out his stat line with three rebounds, an assist, a steal and a block.
After breaking down how the Celtics let the game get away in a disastrous third quarter, Celtics coach Brad Stevens noted, "Maybe I should have played Chris Johnson more and earlier, and then we'd feel better about ourselves."
Through 10 appearances, Johnson is plus-25 overall, second best on the team behind only Jared Sullinger (plus-35). Boston owns a team-best defensive rating of 97 when Johnson is on the floor, or 6.3 points better per 100 possessions than the team's season average.
What those numbers should tell you is that Johnson and his blur of activity are rubbing off on his teammates when he's in the game. Sure, it's not a very large sample size, but he is averaging 20.8 minutes per game and you most certainly know when Johnson is on the floor because he's forcing his teammates to meet his level of intensity.
Call it the Avery Bradley Syndrome. After a quiet rookie campaign, Bradley's confidence grew his sophomore season and the defensive tenacity he brought when he was on the floor was palpable. By the end of that season, Bradley had supplanted Ray Allen in Boston's starting lineup and was a key factor in the team's run to the cusp of the NBA Finals.
It's unfair to expect anything similar from Johnson, who is only 18 games into his NBA career on what amounts to four 10-day contracts thus far. There's still plenty of development ahead for the 24-year-old.
But Boston sees something in this 6-foot-6 swingman out of Dayton. There's potential there, exactly the sort that a team in transition can help nurture.