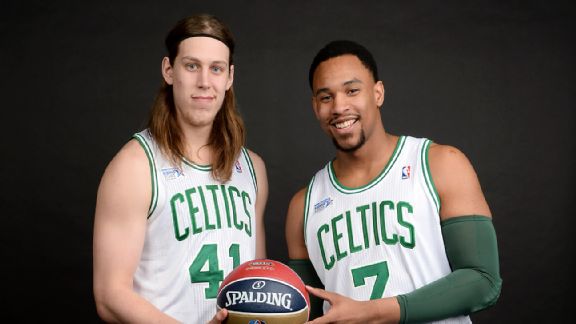 Jennifer Pottheiser/NBAE/Getty Images
Celtics Kelly Olynyk and Jared Sullinger at the Rising Stars Challenge.Rapid reaction after Boston Celtics young bigs Jared Sullinger and Kelly Olynyk participated in the Rising Stars Challenge at All-Star weekend on Friday night in New Orleans:

THE NITTY GRITTY
Both Sullinger and Olynyk were fan-voted starters, joining New Orleans' Anthony Davis, Orlando's Victor Oladipo, and Philadelphia's Michael Carter-Williams on Team [Chris] Webber's first unit. Sullinger lived up to his promise of hanging out around the 3-point line, putting up nine of his 11 shots beyond the arc. He finished with 13 points on 5-of-11 shooting (three triples) to go along with four assists, two rebounds and two blocks over 20 minutes. Olynyk was more efficient, scoring nine points on 4-of-5 shooting with three steals, two assists and a block over 25 minutes. Team [Grant] Hill emerged with a 142-136 triumph fueled by a monster 30-point, 25-rebound effort from Detroit's Andre Drummond, who took home MVP honors. Dion Waiters put on a show with 31 points on 10-of-14 shooting as well, dueling with New York's Tim Hardaway Jr. (36 points on 12-of-23 shooting) at one point.
WHAT IT MEANS
Celtics teammates Sullinger and Olynyk showed their chemistry on one second-half sequence in which Sullinger took the ball out below the hoop after a made basket and threw a Hail Mary strike to Olynyk for a reverse layup. Sullinger's other highlight was some sort of running half-hook scoop shot while sweeping through the lane in the second half. Most importantly for Boston, the two players emerged without injury. Sullinger and Olynyk got a chance to mingle with some of the other up-and-coming talents in the league and served as rebuilding Boston's focal point for this All-Star weekend. They'll get the rest of the weekend to relax before reconvening with their teammates out west on Monday in Phoenix.