PHOENIX -- Brandon Bass usually is a man of few words. That made his eloquent thoughts on hearing his name in trade speculation all the more impactful as he discussed his uncertain future before the Boston Celtics practiced Tuesday at the US Airways Center.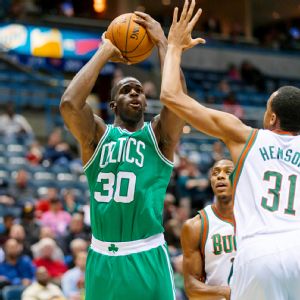 Jeff Hanisch/USA TODAY Sports
With a solid all-around game at a reasonable salary, Brandon Bass should have some appeal to the Celtics' potential trade partners.In his ninth NBA season and third with Boston, Bass acknowledged speculation that he is one of the most likely Celtics to be moved, but said he wouldn't allow the rumors to distract him.
"OK, trades come up, it makes you think about, 'Do they have me in their future plans?' or things of that nature," Bass said. "But even thinking that far [ahead] doesn't even matter, man. It's really all about you just trying to improve as a basketball player. Let the business side, let those people take care of those things."
The Celtics have a logjam at the power forward position and rookie bigs Kelly Olynyk and Vitor Faverani could benefit from additional minutes over the final two months of the season. There's reason to believe Boston would be interested in moving Bass with a goal of adding to their surplus of draft picks or acquiring an expiring deal that could further unclog their cap commitment next season.
Bass is a versatile defender with an economical contract -- he'll enter the final year of his deal next season with a $6.9 million price tag. He could provide a frontcourt boost to a contender without disrupting the chemistry of the locker room.
But Bass knows that his future is out of his hands. Even if the Celtics are willing to move him, they have to find a dance partner. Even if another team desires Bass, the Celtics can set a lofty price tag for his services without an urgency to make a move.
"You can only control what you can control, that's you just trying to come in every day and work hard and be the best player you become," Bass said. "As far as being traded or things of that nature, that's not your job to think about or try to control."