PHOENIX -- Deadline day is here -- mercifully.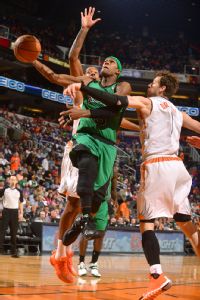 Barry Gossage/Getty Images
Plenty of NBA teams would love to obtain Rajon Rondo, but prying him loose from the Celtics isn't likely.For the past 72 hours, the Boston Celtics' presence in trade rumors has been almost exclusively reports of other teams lusting over Rajon Rondo. All while little has indicated there has been any substance to any of those conversations.
Brad Stevens has politely answered all the trade questions this week out west and has managed to avoid rolling his eyes. But Wednesday he again downplayed the topic while noting he doesn't want to "live in a world of speculation."
The inference seems to be that much of what lands in the headlines leading up to Thursday's deadline isn't even worth acknowledging, and it only serves as a distraction as coaches and general managers try to alert players (and their concerned agents) to what's fact and what's fiction.
Stevens has previously noted that 90 percent of what's out there isn't substantial. Even during his first trek through this process, he knows that deadline week is almost always all sizzle and no steak. Especially in Boston.
Plenty of rumors have swirled before the deadline in recent seasons, but rarely has any of those whispers hinted at the moves that followed.
For instance, all appeared quiet before the deadline in 2011, but Boston completed a series of last-minute trades, including a jaw-dropper that sent Kendrick Perkins to Oklahoma City in exchange for Jeff Green. Last year, plenty of noise gave way to a mere minor swap that saw the Celtics bring back Jordan Crawford (and even the initial reports of that trade on the morning of the deadline incorrectly included Fab Melo before Boston ultimately shipped Jason Collins and an injured Leandro Barbosa to Washington).
Will the Celtics make a move Thursday? They certainly are not opposed to it. But, as president of basketball operations Danny Ainge stressed earlier this month, it takes two to trade tango.
We've noted all along that it seems highly unlikely that anyone is going to meet the team's ransom to even start a conversation about Rondo. If Boston got three first-round draft picks from Brooklyn for aging vets Paul Pierce and Kevin Garnett, imagine the asking price for one of the league's elite point guards, a player in his prime.
So while Rondo has impossibly drawn the most media hype leading up to deadline day, the guess here is that if Boston makes a move it'll be something far less seismic.