BEVERLY HILLS, Calif. -- The 2014 trade deadline passed Thursday without even a whimper from the Boston Celtics. This upset some fans because trades are fun and standing pat is not.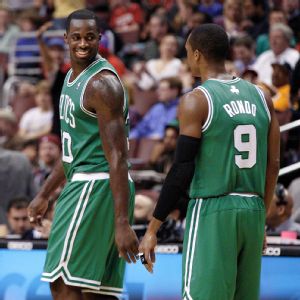 AP Photo/Chris Szagola
With the trade deadline having come and gone, Brandon Bass and Rajon Rondo remain Celtics.Sure, we get it. There's a sector of the fan base that can't see beyond the now, and watching their decorated franchise labor through a 19-36 season is painful. The trade deadline represented a rare chance to shake things up on the fly -- a fictional chance to acquire the next savior. And with 72 hours of rampant Rajon Rondo rumors packing the punch of 72 five-hour energy drinks, some Celtics fans endured a restless night in advance of the deadline, waking up Thursday like kids on Christmas morning and expecting a huge pile of presents.
In their eyes, they got coal.
Expectations were out of whack with reality. Even as Celtics president of basketball operations Danny Ainge and coach Brad Stevens tempered expectations leading up to the deadline, there were fans who simply wanted anything to stir the pot a bit.
But what's easy to forget is that Boston did its shopping early, facilitating two early-January trades that accomplished much of what the team would have normally been looking to do in mid-February.
Yes, Boston was open to more deals, ones that could have cleared future cap space or brought back more draft picks, but there was no pressing need to make a swap. One of the primary rules of general managing is that you don't make a trade just to make a trade. That rarely helps your cause.
So, ultimately, the day lapsed without activity for Boston. The Celtics put high price tags on their own talent, didn't find any bargains across the rest of the league, and resigned themselves to being wallflowers at the annual trade discotheque (even though Ainge & Co. did pack their dance shoes).