LOS ANGELES -- Boston Celtics coach Brad Stevens used to implore MarShon Brooks to stay ready, that his opportunity would eventually come and that he needed to be ready to seize it. Assistant coach Jay Larranaga logged countless hours with Brooks after practice and before games, desperately trying to extract the talent inside him.
But this wasn't exactly what either coach had in mind.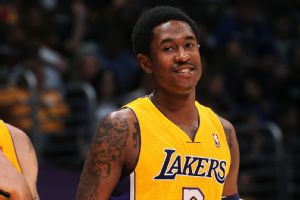 Andrew D. Bernstein/NBAE/Getty Images
MarShon Brooks was all smiles last night for the Lakers.Brooks, now with the Los Angeles Lakers, came off the bench to score 10 of his 14 points while playing the entire fourth quarter as he helped the Lakers rally from an 11-point final-frame deficit to top the Celtics 101-92 on Friday night at Staples Center.
Brooks finished 7-of-11 shooting overall with three steals (all in the fourth quarter) and two rebounds over 23 minutes, 14 seconds of floor time. That's nearly a third of the total playing time he saw in Boston (73 minutes in 10 appearances) after spending the first two months of the 2013-14 season in green.
Call it a revenge game if you want, but Brooks said he holds no animosity toward the Celtics.
"You know what, a lot of people think I should be mad at the Boston Celtics, but I guarantee you that there's no one happier for me than Brad Stevens and Jay Larranaga," said Brooks. "No one is happier for me. They've seen all the work I put in. They've seen all the work I put in -- guarding Jay Larranaga, full-court, off days. I put in a lot of work, so it just paid off."
Stevens tipped his cap to his former player.
"[Brooks] can score and he can get going," said Stevens, who sought out Brooks on the floor after the game to congratulate him. "You let him get in a rhythm with shots at the rim, it could be a long night. Because when he gets going, that's when he's really, really good. I coached against [Kent] Bazemore, too, when he was in college, and those guys are good players.
"As much as change sometimes is difficult, it's also an opportunity, and they both took great advantage of that opportunity today."
The Celtics traded Brooks and Jordan Crawford to Golden State in January as part of a three-team swap that brought back Joel Anthony and draft picks. Brooks played only 15 minutes in seven games for Golden State and the Lakers became his fourth team in less than nine months. Brooks came to Los Angeles with Bazemore in a deadline deal that shipped Steve Blake to the Warriors.
"Initially, I was like, 'Wow, again?' I mean, I was just learning the Golden State offense," Brooks said before Friday's game. "Then, when I had some downtime, I had an opportunity to think about the situation. With them having not too many guys dressing, I have an opportunity to play and [coach Mike] D'Antoni's system is obviously another thing."
What did the 25-year-old Brooks learn during his time in Boston?
"It was a humbling experience, obviously, me not getting an opportunity on a team that was struggling at the time I was there," said Brooks. "That was kind of humbling. I just continue to work."
Stevens noted how Brooks, who needed work on the defensive end of the court, was stuck behind both Avery Bradley and Courtney Lee on the depth chart early in the season. Both Bradley (currently sidelined by an ankle injury in Boston) and Lee (now in Memphis) are starters in the league.
"MarShon's a very very very explosive young player," said Stevens. "He's a young guy. He's had moments -- he's been a double-figure scorer in this league. And he would have played for us, but we had a logjam at his spot, of good, solid players. If he's still here, when we go through all our injuries and the transition in January, he would have played a lot. And probably would have scored a lot. I think the [D'Antoni] system is a great fit. I like MarShon, I think MarShon was an easy guy to coach. I'm hopeful for him that he finds this to be a great fit for him."
Read on for more notes, including how Jeff Green cooled after a fast start; Rondo sitting out Saturday; and Stevens' Red Sox disguise.
---
GREEN QUIET AFTER FIRST QUARTER
Jeff Green scored 11 of his team-high 21 points in the first quarter, but hindered by foul trouble, he struggled to impact the game. Take away the final minute of the fourth quarter and Green finished 3-of-8 shooting for seven points with only one rebound over 20 minutes. He was minus-27 in that span.
"Jeff just maybe got out of a rhythm after he got those fouls," said Stevens. "But he still got looks, he still had opportunities. Certainly, [the opposition is] going to increase the attention, but it wasn't like they were doubling him. It wasn't like they were doing anything like that."
Pressed on if Green needs to step up more in games like this and carry the offense through painful lulls like it endured spanning into the fourth quarter, Stevens said simply, "Jeff made a couple plays late, but I'm sure he'd like to have some of those back, too."
---
LOOSE BALLS
* NOT READY FOR DOUBLE DUTY: Rondo will sit out Saturday's visit to the Sacramento Kings on the second night of a back-to-back. This will be the fourth time Rondo has sat out as a precaution while working his way back from ACL surgery. It's not so much the back-to-back, but that Boston is playing its third game in four nights that worries Rondo. When will Rondo be ready for back-to-backs? Said Stevens: "I think it's more on him feeling comfortable with that. That's a question for our trainers and doctors and him, but nobody knows his body better than him."
* NOT NATIONAL-TV RONDO: Rondo has a propensity for big games during national broadcasts, but this was one of his quieter efforts with Boston in the spotlight on ESPN. Rondo missed 10 of 12 shots, making just one of seven attempts near the basket, while finishing with 6 points, 11 assists and 6 rebounds over 34:16. Asked about his progress as he continues to work his way back from ACL surgery, Rondo said: "It's hard to gauge. Some games are better than others. I'm not going to play great every game. This is one of those games where I could've finished better at the rim, but I didn't."
* SOX IT TO 'EM: Stevens said he didn't hear any heckling from Lakers fans when he ventured out around the team hotel. Not that he'd stick out around Rodeo Drive. "Nobody knows who I am, nor do I really stop," said Stevens. "I usually have my headphones in and I don't walk around the street with green on. I did get some comments because I had my Red Sox shirt on [Thursday]. I got, 'Go Sox!' They don't know who I am, but clearly there are some Red Sox fans around here."