LOS ANGELES -- A day after the league's trade deadline passed, sending a pesky plume of uncertainty packing for the eighth consecutive winter, not even the sunny Los Angeles weather could brighten the outlook of Boston Celtics point guard Rajon Rondo when asked if it was nice to have that cloud lifted.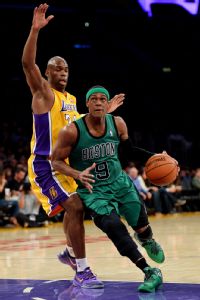 Noah Graham/NBAE/Getty Images
With both the Lakers' and Celtics' fortunes flagging, Rajon Rondo admitted to being annoyed by constant trade rumors.
"I don't know," shrugged Rondo. "Everybody is different. I'm under contact with the Celtics and that's who I play for."
Very few things seem to bother the ultra-confident Rondo, but two things most certainly do: losing and trade rumors. Both have dogged him this season, though he invited neither.
Before the two most decorated franchises in NBA history met with the worst combined winning percentage in Celtics-Lakers rivalry history, Rondo sat on the baseline at Staples Center on Friday morning and reflected on what he called "annoying" trade rumors that swirled before the deadline.
At his feet sat an iPhone, one that likely endured a heightened workout 24 hours earlier, and a pair of custom ANTA brand sandals. The black slip-ons feature a green silhouetted logo of Rondo, a surprisingly recognizable Jordan-esque blob atop his not-for-purchase footwear.
Those sandals remind us that Rondo is no stranger to free agency. Over the summer, he left Nike to sign with ANTA, the brand his good buddy Kevin Garnett adopted at the start of the decade. And it's free agency that might eventually help Rondo rid himself of that pesky pall.
After this season, Rondo will have the necessary eligibility -- eight years in the league, four with one team -- to qualify for a rare no-trade clause. That power to dictate the team he plays for could be a key negotiating item when he inks his next deal, something that could go a long way toward giving him his much-desired peace of mind.
Right now, that does not exist for Rondo. The trade rumors that disappeared Thursday will come roaring back in June. The same thing will happen during the 2014-15 season. All Rondo got with Thursday's deadline passing is a three-month respite from the constant speculation.
Which might explain why Rondo wasn't celebrating the moment. After downplaying the presence of those rumors all week, it was refreshing to see him admit that he was actually irked by the chatter.
Unfortunately for Rondo, those whispers aren't going anywhere until at least the summer of 2015.