BOSTON -- Boston Celtics veteran swingman Gerald Wallace sat at his locker before Wednesday's game against the Atlanta Hawks wearing a white surgical glove and smeared Flexall 454 all over his knees. For a man nicknamed "Crash," this simply seemed like the cost of business after 13 bump-filled seasons in the NBA.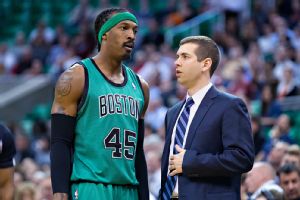 Russ Isabella/USA TODAY Sports
Gerald Wallace carved out a valuable, versatile role in first-year coach Brad Stevens' system.The 31-year-old Wallace learned a day later that lingering soreness in his left knee was actually the result of a torn meniscus that will require season-ending surgery.
This is, impossibly, his first trip under the knife.
Wallace's first season in Boston neither started nor finished quite the way he desired, but Wallace made the most of his 58 appearances and maybe even won over some fans in the process with his style of play.
Wallace, traded for the third time in 30 months this past summer, struggled initially with the idea of being dealt to a Celtics team entering a rebuild. He holed up in his native Alabama throughout the summer and didn't emerge until just before the start of training camp at the end of September.
Even still, Wallace's gritty style and versatility quickly endeared him to first-year Celtics coach Brad Stevens, who leaned on him in a variety of positions and roles. In his final game of the season on Wednesday, Wallace was asked to play minutes at the power forward position with Boston's frontcourt decimated by injuries, and the veteran responded with a 12-point, 10-rebound effort in a win over the Hawks.
Lounging in a chair in front of his locker before Saturday's visit from the Indiana Pacers and addressing the abrupt end to his season, Wallace said the 2013-14 campaign had been more enjoyable than he expected.
"The experience has been fun," Wallace said. "Losing sucks. It always does. I feel like we're a lot better than what our record shows. We've had some ups and downs, some learning curves, not only from the players, but from the coaching staff as well. Everybody learning everybody was an adjustment. But I think, for the most part, it's been a great season."