Back in training camp, Boston Celtics assistant coach Ron Adams engaged in a lengthy post-practice shooting session with rehabbing point guard Rajon Rondo. It concluded with Rondo at the free throw line, seemingly struggling to complete the necessary number of consecutive makes to end the drill. With the gym empty, save for a couple of lingering staffers shagging balls, Adams fetched his bag from one side of the court and wheeled it to the free throw line where Rondo was shooting.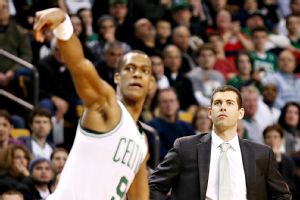 AP Photo/Mary Schwalm
Rajon Rondo has improved his 3-point shooting this season.Adams quietly offered a few words of advice, calmly sank a one-handed free throw, then grabbed his briefcase and departed the gym. Rondo soon after completed the drill.
Call him the Shot Whisperer. As revered as longtime assistant Adams is for his defensive prowess, he also excels at working with individual players on their shooting. Celtics players who have spent even just a few sessions with him come away raving, including guard Avery Bradley, who has displayed improved consistency with his jump shot since the start of the season.
As Rondo has watched Bradley thrive from the midrange and rekindle his 3-point shot, the star veteran went to Adams with a simple message earlier this season while navigating his way back from ACL surgery: "I want to shoot like Avery."
In 15 games since returning to action following a yearlong absence, Rondo has displayed an improved 3-point shot, connecting on a career-best 36.4 percent this season. With his next triple, Rondo will match his career high for single-season makes (17 in 2009-10), and he is forcing defenses to respect him beyond the arc.
And he says Adams is to thank.
"I've got to give Ron Adams a lot of credit," Rondo said. "He's been with me since day one. We've been working day in and day out, as much as possible. In the beginning [of rehab], I could only do so much. I just continue to try to work and shoot the ball with confidence."
So what exactly has Adams imparted to him?
"You've got to ask him. I think he's helped improve Avery Bradley; he's been shooting the ball extremely well," Rondo said. "I told Ron, 'When I come back, I want to shoot like Avery.'"
Rondo is shooting just 40.1 percent from the field, but part of that is finding his touch on shots around the basket. Rondo is shooting just 14.3 percent on shots from 5-9 feet, driving down his overall percentage. He's shooting 47.5 percent from the midrange and 37.8 percent on 3-pointers above the break (those not in the corners).
Rondo continues to put an emphasis on getting to the basket, knowing the importance of generating free throw opportunities (for him and his teammates) and getting easy baskets near the rim. But his improved shooting from distance is impossible to ignore and is another step in his evolving game.