Late in the first quarter of Saturday's game against the Indiana Pacers, Chris Babb got the call from Boston Celtics coach Brad Stevens to make his NBA debut. The rookie's first assignment? Defend All-Star Paul George.
Welcome to the NBA, kid.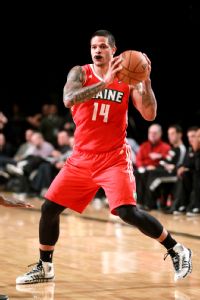 Jack Arent/NBAE via Getty Images
Chris Babb impressed the Celtics' coaching staff during the preseason, emerging as a competitive defender and a capable 3-point shooter.Babb, who signed a 10-day contract with Boston one day earlier, played only 1 minute, 38 seconds in his first NBA game, but showed a tiny glimpse of why he's here with some feisty defense against one of the league's top scorers.
The only points George generated during that 98-second span came when Brandon Bass called for a switch on a pick-and-roll and gave up a three-point play. Babb otherwise stayed attached to George, including on the final play of the first quarter, where he muscled George out of a post-up situation and contested a baseline fadeaway that clanged off iron.
The Celtics were pondering a potential addition to the roster last week with an available spot and mounting injuries. But when veteran Gerald Wallace learned he needed season-ending knee surgery for a torn meniscus, Boston's need for a defensive-minded wing was heightened.
On Thursday, Celtics president of basketball operations Danny Ainge phoned head coach Mike Taylor of the Maine Red Claws, Boston's D-League affiliate, and told him the Celtics planned to ink Babb to a 10-day contract.
Babb, warming up on the court in Portland before a visit from the Canton Charge, got a quick jolt of nerves when he was summonsed to Taylor's office. And while he got the good news about his first NBA opportunity, he also received some bad news: Babb couldn't tell anyone in the locker room about his call-up.
Babb quietly texted a couple of members of his family, then went out and put up 14 points, 7 rebounds, 4 assists and 2 steals over 40 minutes. He also hit a go-ahead 3-pointer with 2:30 remaining that propelled Maine to a 110-105 triumph.
By the time the game ended, word had spread about Babb's promotion and he was finally able to revel in the news. Twelve hours later he was on the practice floor in Waltham with the Celtics prepping for this NBA debut.
"It was definitely unexpected," Babb admitted. "I kind of just thought I was going to grind out the rest of this D-League season and start over next year. Fortunately enough, the staff here gave me an opportunity."