WALTHAM, Mass. -- These transitioning Boston Celtics have put a premium on players who operate with a desire to compete and understand the significance of putting on the uniform.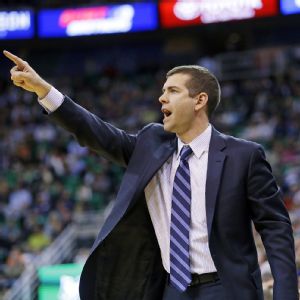 AP Photo/Rick Bowmer
Brad Stevens says his team plays hard every night because "they know and understand the responsibility of wearing that uniform. They get it."It's why Chris Babb is on the bench, fighting to earn every penny of a 10-day contract that will pay him roughly $46,000. And it's why Keith Bogans was sent home to finish collecting $5.1 million in guaranteed salary.
The Celtics understand the situation they are in. The team is 20-40 entering the fourth quarter of the 2013-14 season. From a casual fan's perspective, the biggest intrigue over the final 22 games is whether Boston, which currently owns the fourth-worst record in basketball, can generate any additional pingpong balls by sinking lower in the standings.
But to first-year coach Brad Stevens, the focus has to be on getting better and ultimately working against the casual fan's goal by trying to win games.
"I think we've done a great job of bringing in guys that are not necessarily world-beaters, but great guys, great teammates," said Stevens. "They do whatever you ask them to do and are excited to be here. They know and understand the responsibility of wearing that uniform. They get it.
"As a result, you've got a lot of guys playing really hard regardless of who's out there. It's a credit to guys like Gerald [Wallace]. You want to play hard with him out [season-ending knee and ankle surgery]. We owe that to him. I'm excited because we're getting better. But it's rough because I want to win that game [Saturday against the Pacers]. That game -- we had a shot to win."
The Celtics entered Saturday's tilt 25 games back of league-leading Indiana. They had already lost two games to the Pacers by an average of 21 points, including a pre-Christmas shellacking in Indy that spoiled Stevens' homecoming. But despite mounting injuries, the sort that forced Stevens to play Babb or little-used Joel Anthony in small bursts, the Celtics took Indiana to the wire before dropping a 102-97 decision at TD Garden.
Boston players could be forgiven if they elected to put the 2013-14 season on autopilot over the final 44 days of the season, but Jared Sullinger, who has been barking since last summer about how this team refuses to tank, said these Celtics won't roll over.
"I think the biggest thing is that teams where we are at right now can really just kind of give up and say, 'You know what? Forget this season. Let's try again next year,'" said Sullinger.
Forget the season? Sullinger suggested the Celtics are saying "Forget that."