BOSTON -- Boston Celtics coach Brad Stevens said his team had one of its best practices of the season on Tuesday. Team captain Rajon Rondo, at least in the aftermath of a lopsided 108-88 loss to the Golden State Warriors, didn't think the practice was that good.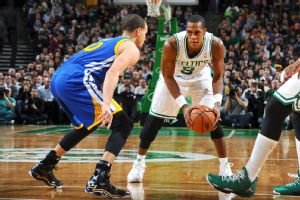 Brian Babineau/NBAE/Getty Images
Rajon Rondo and the Celtics were not on the same page on Wednesday night against the Warriors.So Rondo's thoughts on Wednesday's loss about summed up the state of the Celtics at the moment.
"We just weren't on the same page on either end of the floor," said Rondo.
One day after promising to fight hard through the final 22 games of the 2013-14 season, the well-rested Celtics got steamrolled by a Warriors team playing the final game of a six-game road trip and the second night of a back-to-back.
The Celtics looked lethargic at times, particularly as the Warriors utilized a string of first-half turnovers to fuel transition baskets that blew the gate off the game. Late in the first quarter, 35-year-old Jermaine O'Neal, last seen hobbling around TD Garden with two bad knees and one good wrist, stormed the lane and threw down a two-handed dunk. Twenty-two of Golden State's 27 points to that point had come in the paint.
After taking league-leading Indiana to the wire on Saturday, the Celtics rallied around the notion that they won't go quietly this season, that they plan to compete in each of the final 22 games. Well, they're 0-for-1.
So how do they pick themselves up off the mat?
"I can only speak for myself: You've got to dig deep and find it within yourself to compete," said Rondo. "In anything I do, I want to win. I think that's a lot of guys' mentality, but I can only speak for myself."
That's something that Stevens and Rondo are most definitely on the same page about.
"I kinda kick myself, to be honest, because I've said three times this year that, 'We had a really good practice yesterday' and we did," said Stevens. "But for whatever reason we follow it up with a clunker. That's what we did today. I see nothing but recognition that we didn't play well, with pride that we will play better and the expectation that we are going to come to work and do better. And that's the expectation, period. I've heard people say our record is what it is and that you're playing for pride. That's a lot. To me, that's a lot. It's important that we show ourselves a lot different than we did today."
Wednesday's loss left a sour taste in the team's mouth.
"It's our pride," said Green. "We don't want to keep embarrassing ourselves and that is the mentality we are going to have. I don't think this group wants to continue to have games like this. We just have to keep fighting."
---
CORBETT VISITS CELTICS
Louis Corbett, a 12-year-old New Zealand native with a rare degenerative eye disease, fulfilled one of the top item on his "bucket list" Wednesday by taking in the Celtics-Warriors game.
Corbett, whose trip to Boston was funded in part by the Celtics after the team learned of his desire to see his favorite NBA team before he loses his vision, sat courtside near the Boston bench and got VIP treatment throughout the night. He mingled with Stevens, Rondo and Celtics players before the game; Green invited him onto the floor to get up shots during pregame warm-ups; and he was honored on the JumboTron at the first timeout.
On a night when Perkins School for the Blind opened the game with a rousing rendition of the national anthem, Corbett left an impression on Celtics players and staffers.
"I'm really disappointed in how we played, for a lot of reasons, but certainly we would have liked to have played better for [Corbett's] family," said Stevens.
Added Rondo: "It was very exciting to meet him. He came in the locker room before the game. He met me. I didn't know I was his favorite player. We had some words. Very happy kid. What he's going through, he still has a smile on his face. He's very humble. Because we all do what we love to do for a living and you never know, at any moment, it could be taken from you. You just try not to take anything for granted."
Green sent Corbett home with his game-worn sneakers.
"He is smiling and he is enjoying life," said Green. "We can get down over the little things and then you have a kid who is about to have a surgery in a couple of weeks who is going to be blind and right now he is enjoying one day at a time. Sometimes it puts life in perspective."
---
LOOSE BALLS
Emptying out the notebook after a lopsided loss for Boston:
WALLACE ALREADY REHABBING: One day after undergoing surgery on his knee and ankle, Gerald Wallace was at the Celtics' practice facility on Wednesday for the initial stages of his rehab. "Pretty simple stuff -- for healthy people, right?" quipped Stevens when asked about Wallace's initial rehab tasks. "He had both surgeries done [Tuesday], which is pretty unique, both went really well. [Wednesday], the one thing that he was just doing was some work with his knee." Wallace is expected to be sidelined 3-4 months for the ankle alone and he said he hopes to be back for training camp next season.

BRADLEY GETS MRI: Celtics guard Avery Bradley underwent an MRI on his right ankle as part of a re-evaluation that could start the process of getting him back on the court. Bradley has missed 15 of the team's last 18 games after spraining his right ankle in late January and he declined to chat with reporters before Wednesday's game. Stevens said Tuesday that Bradley feels better and the team is hopeful he'll gain clearance to resume basketball activities as part of this re-evaluation.

SULLY REMAINS IN RESERVE ROLE: Jared Sullinger, who has started 41 of 56 appearances this season, came off the bench for the second straight game Wednesday after returning from a concussion on Saturday. Why are the Celtics easing him back in? "He hasn't practiced hardly at all," said Stevens. "He had the one practice [Tuesday], even on Monday he was not able to come in and do much because he slightly twisted his ankle in the Saturday game [against the Indiana Pacers]. I just think these guys are playing well right now, Bass and Hump, and I think you could go any of four ways really. At the end of the day, [all four of Boston's bigs] are all going to play a lot of minutes for us."