BOSTON -- Boston Celtics president of basketball operations Danny Ainge alerted Jordan Crawford in the preseason that, due to Boston's logjam at the shooting guard position, there was a chance he could be moved at some point during the 2013-14 campaign.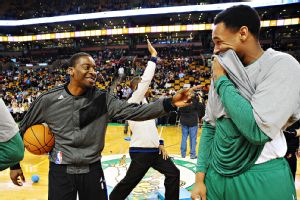 Brian Babineau/NBAE/Getty Images
Jordan Crawford enjoyed a laugh with Jared Sullinger before the Warriors routed the Celtics.So the call in mid-January alerting Crawford that he had been dealt to the Golden State Warriors in a three-team swap didn't come as a complete surprise. What did was how hard it was to leave Boston.
A wistful Crawford reflected fondly on a short-but-sweet 11 months in Boston, particularly the first 75 days of the current season when the Celtics inserted him as starting point guard in the absence of rehabbing Rajon Rondo and watched Crawford flourish in his fourth NBA season.
"I miss [Boston], actually," said Crawford. "I miss it. It was home for a minute. The first time I got to play a lot of minutes. I got to have ups, I had downs, and how you adjust to playing bad, how to get back. So it was a lot of positives.
"That's probably the hardest part of leaving, because it really did feel like home a little bit, even though I was only here for less than a year."
The Celtics acquired Crawford for a scoring burst at the trade deadline in February 2013. He played sparingly on a veteran team that was bounced from the first round of the playoffs and ushered in a rebuilding process, but he bought into a role as more of a facilitating point guard to start the 2013-14 campaign. Crawford averaged 13.7 points, 5.7 assists and 3.1 rebounds over 39 games with Boston, including 35 starts.
Boston moved him to the Warriors as part of a three-team deal that brought back Joel Anthony and future draft picks. With Golden State, Crawford finds himself in another crowded backcourt. Entering Wednesday's game, Crawford was averaging 7.2 points, 1.8 assists and 1.5 rebounds over 16.1 minutes per game in 21 appearances for the Warriors.
He scored 15 points on 7-of-12 shooting over 19:26 during Golden State's 108-88 shellacking of Boston on Wednesday night at TD Garden.
After the game, Celtics coach Brad Stevens -- along with many of his former teammates -- sought out Crawford to wish him luck the rest of the way.
"He can score the ball, there's no question about it," said Stevens. "My hat's off to him, the way he played tonight. I told him after the game, I hope he really finishes strong. I'm a fan. I was a fan, am a fan. It's good to see him have success, but I don't like it when it's against our team. I said this a couple weeks ago after we played MarShon [Brooks] -- you invest in those guys and when they leave you, you wish them to have success."