So the Boston Celtics have nothing left to play for this season, you say? That doesn't seem possible considering the Celtics currently own the NBA championship belt after Friday's win over the Brooklyn Nets.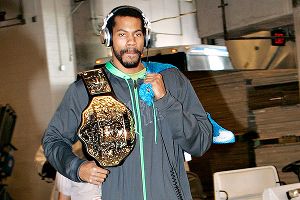 Eliot J. Schechter/Getty Images
Assistant coach Rasheed Wallace and the Pistons get a crack at the NBA championship belt on Sunday.Confused? It's actually a fun little game started by the folks on Reddit. The idea is that, starting with the first game of the NBA season, the actual defending champion puts its "championship belt" on the line every game. So Miami won the 2013 NBA title and got the ball rolling this season by defeating Chicago in its first game on Oct. 29. But the Heat were upset by the Philadelphia 76ers the next night, giving Philly the belt.
Impossibly, every team in the league has had at least a shot at the belt except the league-leading Indiana Pacers and the Houston Rockets. The Celtics even claimed it once back in mid-January with a win over the Toronto Raptors. Boston ended Brooklyn's one-game reign with Friday's win at TD Garden.
If Boston beats Detroit, the Pacers will get their first crack at the title on Tuesday in Indiana.
Hop HERE for more on the NBA Championship Belt, including the full season standings. It's highly entertaining.
(h/t: JackLynch11 on Reddit)