Earlier this week in Dallas, Boston Celtics guard Jerryd Bayless reminded us why the team likes having him on the roster.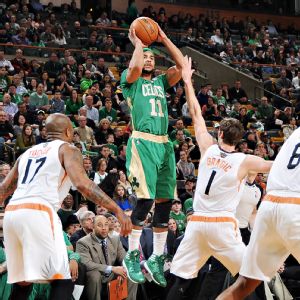 Brian Babineau/NBAE/Getty Images
Jerryd Bayless can get hot in a hurry with his shot.Bayless, earning a spot start in place of resting Rajon Rondo, made four consecutive shots while scoring 12 fourth-quarter points to help Boston rally back from as much as a 12-point final-frame deficit. The only downside: Bayless missed his final three attempts, including an ill-advised second-chance layup attempt that was swatted by Vince Carter, helping Dallas to seal a 94-89 triumph.
Nearly three months removed from the swap that sent Courtney Lee to Memphis, what we've learned over Bayless' 32 games in Boston is that he is who he is -- a versatile combo guard prone to scoring outbursts (the sort that he used to torch Boston with when he was with the Grizzlies).
The question as the Celtics play out the string is whether Bayless has a future here. The 25-year-old is on his fifth team in six NBA seasons and has expressed a desire to put down some roots. Bayless' future here likely hinges in part on Boston's offseason activity, but he's only reaffirmed what we knew about his game since he arrived.
Through 32 games, Bayless is averaging 9.6 points on 41.1 percent shooting overall (36 percent beyond the 3-point arc) to go along with 3.4 assists, 2.2 rebounds, and 1 steal in 24.8 minutes per game. Injuries in Boston's backcourt, including Avery Bradley's right-ankle woes, have opened the door for Bayless to start 10 games, where his stat line perks up -- averaging 12.7 points, 3.2 rebounds, and 2.9 assists over 29.6 minutes per contest.
The Celtics likely traded away a player with more pure talent in Lee, who has thrived in a heightened role with Memphis. That said, Bayless better fits what the Celtics needed off their bench, primarily because of his ability to handle the ball and play both guard positions. What's more, Lee's long-term, big-money deal had clogged up Boston's cap structure.
For being added to the roster midstream, coupled with Boston's team struggles, it's hard to get a firm gauge on how Bayless has performed. What we know is that Boston's offensive rating does get an uptick when he's on the court -- the Celtics average 101.2 points per 100 possessions with Bayless, a little more than two points better than their season average. The asterisk there is that, as his time has spiked since the All-Star break with his on-court time jumping more than five minutes per game, Boston's offensive rating with him on the floor has dipped to 98.6 in those 16 games. What's more encouraging is that in 22 games as a reserve, Bayless' offensive rating is 103.6 overall, suggesting he's thriving offensively in his most typical role.
The more troubling number is his defensive rating, which stands at 108 through his 32 appearances. That's about four points above Boston's season average and diminishes Bayless' offensive impact. You can't quite pin it on Bayless, however. Lee's defensive numbers were an eyesore at the start of the season for Boston, but have drastically improved for a Memphis team that ranks in the top 10 for defensive rating this season.
Here's the one thing that could help Bayless' cause more than anything: Guys like Bradley are playing better when he's on the court. Bradley's offensive rating jumps nearly eight points when playing alongside Bayless and he shoots remarkably better overall and beyond the 3-point arc. Rondo's improvements are not quite as pronounced, but they do exist.
Bayless is making his backcourt mates better, at least offensively, and that reflects well on him. In both instances, however, the defensive numbers dive, highlighting again the need to get him on the same page as Bradley and Rondo there.
Bayless is in the final year of his contract and earning $3.1 million this season. The Celtics will seemingly have the opportunity to bring him back at a similar price point, but their desire is likely to hinge on the players they add via the draft or offseason moves. Bradley is also set to be a restricted free agent, but the team has stressed that they see him as part of their future.
Celtics coach Brad Stevens has praised Bayless and his approach, often calling him a true professional for the way he's integrated into the roster and been versatile with regard to his role (playing on the ball versus off; starting versus bench). The challenge for Boston's staff is getting Bayless to be a better team defender, particularly considering that he's often spelling Bradley, an All-Defense second-teamer last season.
Bayless reminded everyone why he's a luxury to have on the roster with Monday's effort in Dallas; part of him sticking around in Boston could depend on his ability to make strides in the other areas of his game.