BOSTON -- Two days before his team would surprise the NBA world with the hiring of college wunderkind Brad Stevens as head coach, and 10 days before the franchise-altering swap with the Brooklyn Nets would be formally executed, Boston Celtics president of basketball operations Danny Ainge stood in a Mattapan Community Center following introductions of the team's 2013 rookie class and smiled wide when asked about the daunting rebuilding process looming in front of him.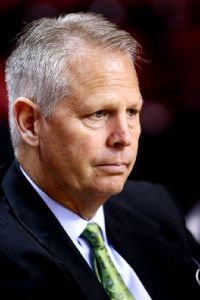 Robert Mayer/USA TODAY Sports
Danny Ainge concedes 2013-14 was "a tough year" but welcomes the challenge of rebuilding."I wouldn't say it's exciting; it's a challenge. But I welcome that challenge," Ainge said. "And I'm re-energized to try to do it again."
Two-hundred-ninety days later, Ainge leaned on a wall outside the Celtics' locker room as his team prepped for its 57th and final loss of a harrowing 2013-14 season, a necessary evil in the prickly rebuilding process.
Ainge, looking haggard like most in the Celtics' organization after a grueling season, still wore that same smile as he expressed optimism that the summer would bring the sort of changes that would thrust his team back into contender status.
But Ainge acknowledged the obvious: This season was tough to endure.
"It was a long season," Ainge said before catching himself at the suggestion that a season devoid of a postseason appearance wasn't quite as long as the team is used to after the success of the big three era.
"I guess not that long," he added. "But it was tough, a tough year."
The Celtics bid good riddance to the 2013-14 campaign with a 118-102 loss to the playoff-bound Washington Wizards. Coupled with a double-overtime win by the Utah Jazz in Minnesota, Boston finished the season tied for the fourth-worst record in the NBA. With one of their two first-round picks, the Celtics will have roughly a 33.7 percent chance at a top-three pick and a 10.4 percent chance at the No. 1 selection.
After a season filled with losses, the Celtics can finally revel a tiny bit in defeat. Boston has put itself in position to add another building block by enduring the rigors of the rebuild. And with the 2013-14 campaign in the rearview mirror, here comes the unbridled optimism that only the NBA offseason can provide.
Reflecting on his first season on the bench, one in which he lost more games than he did during his entire six-year stint as head coach at Butler University, Stevens praised his team for how hard it played, even after its lottery fate was sealed.
"I think the best thing I learned is that it's not fun to not win," Stevens said. "But it doesn't define who you are or how you go about your business. So, one of the things that I'm probably most happy about with our team is that they didn't change necessarily who they were, they didn't let the losing or the multiple losses affect them or their approach and I hope that I was the same way."