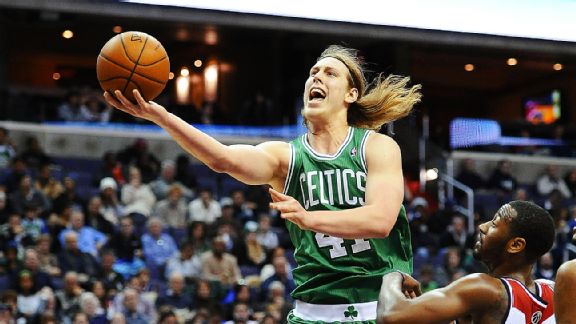 Brad Mills/USA TODAY Sports
Kelly Olynyk finished strong during his rookie season in Boston.With the Boston Celtics' 2013-14 campaign in the rearview mirror, we've busted out our red pens and assigned grades to each player based on their individual performances this season. Our annual reminder that players are graded based on expectations versus personal performance. This is the third in a series of end-of-the-season report cards:
Player: Kelly Olynyk
2013-14 base stats: 8.7 ppg, 5.2 rpg, 1.6 apg, 46.6 FG%, 35.1 3PT%
2013-14 advanced stats: 0.91 Off ppp (52nd percentile), 0.9 Def ppp (36th percentile)
2013-14 salary: $2.0 million
Season in a paragraph: Olynyk rode the rookie roller coaster: A stellar summer gave way to typical first-year growing pains in games that actually matter and an ankle injury put him on the shelf just 15 games into the season. His first year ended on the upswing, however, as Olynyk grew more comfortable on the court in the second half of the season then finished the 2013-14 campaign logging heavy minutes as a starter in an injury depleted frontcourt. Olynyk battled rookie whistles and his defense is a work in progress, but there's a lot to like in what the 13th overall pick in last year's draft showed over 70 games.
GM's Take: "I think Kelly has had a really good second half," said Celtics president of basketball operations Danny Ainge. "I think he gained some confidence when we went to the All-Star break and represented the rookie team. I think I've been really happy with how he's improved. I think the coaches have done a good job of getting him stronger, a good job of teaching him the game and I think he's a great player."
Season highlight: Over Boston's final three games of the season, Olynyk averaged 25.7 points on 53.4 percent shooting overall, while adding 9.3 rebounds and 3.7 assists over 34.7 minutes per game. He displayed a confidence and fluidity to his offensive game that wasn't always present earlier in the season, while making some strides defensively. The Celtics were able to run offense through Olynyk giving his passing abilities and actually played at a heightened pace when he was on the floor (a team-high 102.86 possessions per 48 minutes over those final three games).
Season lowlight: Already burdened by heightened expectations from a breakthrough performance at Orlando summer league, Olynyk was fighting as most rookies do to adapt to the NBA game when he injured his ankle in a late November tilt with the Indiana Pacers. He missed the next 10 games and it wasn't until around mid-January that he started to turn the corner (an invite to the league's Rising Stars challenge buoying his confidence at the All-Star break).
Final grade: B+
Teacher's notes: There's no denying that Olynyk's grade is a reflection of the improvement over the final 26 games (the first half of the season had him in the C range). His numbers skyrocketed from pre-All-Star break (6.9 points, 4.7 rebounds, 42.8 FG%, 28.3 3PT%) to post (11.7 points, 6.2 rebounds, 51.1 FG%, 42.6 3PT%). Even with Boston stocked at the power forward position, he separated from the pack and put himself in position to be a key asset no matter how this team looks moving forward. The key for Boston's coaching staff is improving his defense. Opposing teams really attacked him in the post and guards exploited him on switches in the pick-and-roll.
What's next?: Olynyk's body will likely be a focus for the strength and conditioning staff this summer. They've got to bulk him up a bit and build his strength to compete better with NBA bigs. Coaches will expand his offensive toolbox, while bringing his defense along. Olynyk's future is bright and he's under Boston's control at a reasonable rate for at least three more seasons under his rookie deal. He's likely to gain some additional seasoning if he competes with the Canadian national team moving forward.
Honor roll: Click HERE to read past report cards.
Don't agree with teacher? Just want to sound off on Olynyk's 2013-14 season? Leave your thoughts in the comments section.