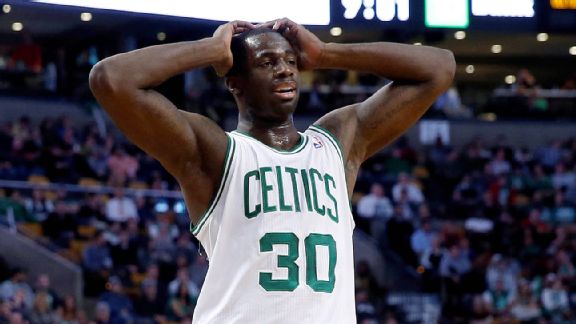 Greg M. Cooper/USA TODAY Sports
Brandon Bass brought his lunch-pail mentality to the team each day.With the Boston Celtics' 2013-14 campaign in the rearview mirror, we've busted out our red pens and assigned grades to each player based on their individual performances this season. Our annual reminder that players are graded based on expectations versus personal performance. This is the fourth in a series of end-of-the-season report cards:
Player: Brandon Bass
2013-14 base stats: 11.1 ppg, 5.7 rpg, 1.1 apg, 27.6 mpg, 48.6 FG%
2013-14 advanced stats: 0.975 Off ppp (74th percentile); 0.826 Def ppp (72nd)
2013-14 salary: $6.5 million
Season in a paragraph: In a crowded frontcourt with plenty of competition for his starting role, Bass logged career highs with 73 starts and 2,266 total minutes played. It was your typical Bass season: Low on pizzazz, high on consistency. The 28-year-old Bass put on his hard hat each night and did his job. He was maybe Boston's most consistent defender and provided his usual scoring bursts via the pick-and-pop. His advanced numbers are staggeringly inline with his career output, save for slight spikes to his assist percentage (farewell, no-pass Bass!) and defensive rating (the product of a KG-less frontcourt).
Season highlight: Despite all the trade whispers, particularly when his name cropped up in December chatter about Boston's pursuit of Houston's Omer Asik, Bass ignored all the noise and focused on his job. He was rewarded at the team's season finale when he was honored with the ninth annual Red Auerbach Award. Said coach Brad Stevens: "The reason [Bass deserved the award] and I just told him this in front of the team, he's as good of a pro as we have. ... I think we need to really embrace that deliberate work-ethic all around the way and Brandon Bass is a great example of that for our team."
Season lowlight: Bass got into a little bench dust-up with Jeff Green in late December, likely a product of Boston's defensive struggles early in the transition process. Like the trade rumors, Bass quickly squashed any concerns and remained focused on the task at hand. It's telling that, save for maybe a quick stint as a reserve in which he struggled, Bass rarely had a glaring lowlight moment.
Final grade: B+
Teacher's notes: Bass' season defies logic. He was a team-worst minus-398 in plus/minus and his defensive rating was a surprisingly high 106.3, more than a point higher than the team's season average. What's more, Boston's net rating was nearly six points better when Bass was on the bench. Yet Bass' individual point-per-play numbers, as logged by Synergy Sports, were some of the best on the team on both sides of the ball and teammates raved about the positives he brought. It seems impossible to grade him harsher because he did his job exactly to the level of expectation. All we can dock him for is the fact that the team failed to thrive when he was on the court, though much of that can be pegged to rebuilding pains.
What's next?: Bass enters the final year of a contract that will pay him $6.9 million next season. The Celtics must decide if that number, with a potentially rising cap, is too prohibitive for a depth forward, or whether his consistency and work ethic is worth the price tag to keep him around. The guess here has been that the team will continue to explore moving Bass to contenders that can use his versatility and professionalism, if only because power forward minutes seem pegged for the likes of youngsters Jared Sullinger and Kelly Olynyk, particularly if Boston adds the pure center rim protector it craves this offseason.
Honor roll: Click HERE to read past report cards.
Don't agree with teacher? Just want to sound off on Bass' 2013-14 season? Leave your thoughts in the comments section.