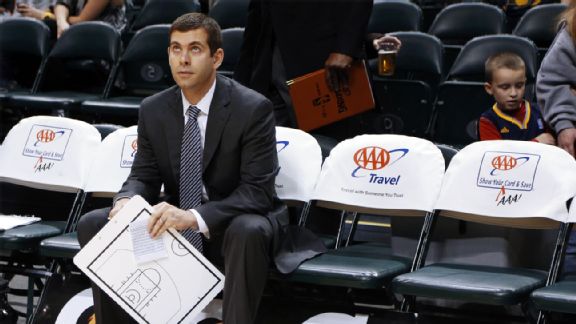 Brian Spurlock/USA TODAY Sports
Brad Stevens completed his first season on the bench in Boston.Some seasons ended last week. Some seasons ended badly. Some seasons ended badly, but in such a way that people actually rejoiced in how badly they ended. This is great fodder for barroom debate and talk-radio rhetoric. This was extraordinarily weird for the people whose livelihoods depend on having not too many seasons end badly, because that is how careers end badly. This was an extraordinarily weird time to coach, say, the Boston Celtics.
"There's a couple different ways to look at it," said Brad Stevens, after Boston had lost its last game of the season, badly, to the Washington Wizards on April 16. The Wizards, as they say, were "playoff-bound." (Well, you would only say that if you were a sportswriter of the long-dead variety. Anyway, the Wizards are continuing to prosper, John Wall being one of the league's great growth stocks at the moment.) The Celtics were … incredibly not.
"Are you going to get better in your role, or are you going to expand your role?" Stevens continued. "What I mean by that is: Are you going to get better at what you do well, or are you going to get better at some other things that make you, give you the chance instead of being the eighth guy to be the fifth? Or instead of being the fifth to be the third?"
The topic of tanking was delicately broached, in the context of Stevens's building a team during a season after which almost everyone on the roster would be legitimate trade bait.
"They have a lot to play for. I think everything matters," he said. "We talk about that as a team. That's kind of the rallying cry going into the offseason: Every little thing you do matters … We're all shooting for something, and every single day and every single effort you put into it matters toward achieving it. This is really not fun, to lose. We've had our moments of tasting winning against some good teams. We had our moments of letting some games get away, and you hope to learn from all of those and not let the bad things happen again."