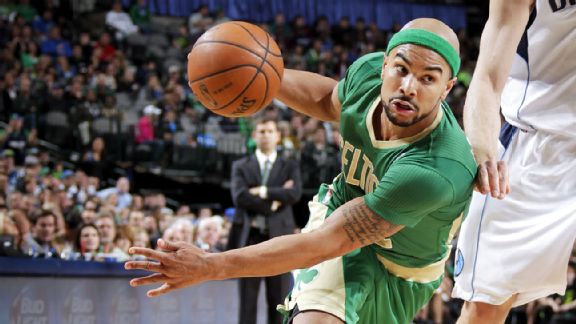 Danny Bollinger/NBAE/Getty Images
Acquired in January, does Jerryd Bayless have a future in Boston?With the Boston Celtics' 2013-14 campaign in the rearview mirror, we've busted out our red pens and assigned grades to each player based on their individual performances this season. Our annual reminder that players are graded based on expectations versus personal performance. This is the sixth in a series of end-of-the-season report cards:
Player: Jerryd Bayless
2013-14 base stats: 9.3 ppg, 2.7 apg, 2.0 rpg, 40.2 FG%, 35.8 3PT% (totals w/BOS + MEM)
2013-14 advanced stats: 0.9 Off ppp (48th percentile), 0.945 Def ppp (19th) (w/BOS)
2013-14 salary: $3.1 million
Season in a paragraph: Bayless, a thorn in Boston's side as an opponent, was acquired from the Memphis Grizzlies in exchange for Courtney Lee (and his cap-clogging contract) in early January. Bayless provided flexibility at the guard spot, bouncing between the 1 and 2 when Rajon Rondo and Avery Bradley were sidelined. Bayless made 14 starts in 41 appearances for Boston, averaging 10.1 points and 3.1 assists over 25.3 minutes per game overall with the Celtics. The NBA vagabond -- playing for his fifth team in six seasons -- shot above his career marks from the field (41.8 percent) and 3-point line (39.5 percent) with Boston and was prone to catching fire when his shot was falling.
Season highlight: You can joke that Bayless' best performance in Boston came as a visitor when he scored 22 points (on just 10 shots) while leading the Grizzlies to a victory at TD Garden in November. He scored a season-high 29 points on 12-of-21 shooting during a win over the visiting Hawks in late February. It was one of 11 games with 15 points or better for Bayless during his time in a Boston uniform.
Season lowlight: A right knee sprain cost Bayless a chance to make a final impression over the final three games of the season. Bayless had logged two games with 39+ minutes earlier in the month of April as Boston limped to the finish line, but he soon joined the infirmary report.
Final grade: C+
Teacher's notes: Boston's primary motivation in the Lee swap was to shed his contract, but the Celtics got back a player that intrigued him. How the dominoes fall this summer will likely dictate if Bayless can put down some rare roots here. The Celtics must first see how the guard depth chart looks after navigating the draft, Bradley's restricted free agency, and any other free agent targets early in the offseason. At the right price, the 25-year-old Bayless provides nice versatility off the bench, but he has strides to make defensively. ESPN's new WAR (wins above replacement) metric wasn't kind to him as he finished last on the team (and 376th out 437 ranked players). It's easy to forget how young he is and there's still time to mold his game.
What's next?: Bayless will be an unrestricted free agent this summer. Celtics president of basketball operations Danny Ainge has admitted he likes Bayless' game, but it'll likely come down to available roster depth and cap space to determine whether he's back in Boston.
Honor roll: Click HERE to read past report cards.
Don't agree with teacher? Just want to sound off on Bayless' 2013-14 season? Leave your thoughts in the comments section.