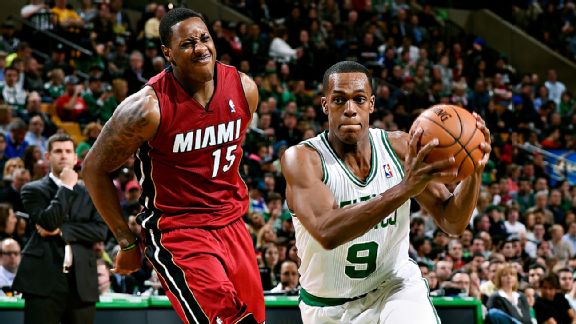 Brian Babineau/NBAE/Getty Images
Rajon Rondo shook some rust after returning in mid-January..With the Boston Celtics' 2013-14 campaign in the rearview mirror, we've busted out our red pens and assigned grades to each player based on their individual performances this season. Our annual reminder that players are graded based on expectations versus personal performance. This is the eighth in a series of end-of-the-season report cards:
Player: Rajon Rondo
2013-14 base stats: 11.7 ppg, 9.8 apg, 5.5 rpg, 1.3 spg, 40.3 FG%
2013-14 advanced stats: 0.731 Off ppp (11th percentile); 0.989 Def ppp (11th)
2013-14 salary: $12 million
Season in a paragraph: Rondo returned from nearly a yearlong absence in mid-January and appeared in 30 games. He showed flashes of his old self, but the stats reflect a player still finding his touch after an extended absence. Rondo played it safe, sitting out the second night of back-to-backs for precaution with his repaired knee, and missing three of the final four games of the season due to minor shin and hamstring ailments. The Celtics didn't need 100-percent Rondo this season, but these 30 games might help them get 100-percent Rondo by the start of next season when they hope he can spearhead a revitalization.
GM's Take: "I think Rajon will have the best year of his career next year," said Celtics president of basketball operations Danny Ainge. "That's what I think. I think he's sort of at the phrase of his life where he's matured, he's just smarter, the game's slower to him. I think he'll be really healthy and fresher with a summer of strengthening. He's sort of past all the mental anguish of coming back from the knee surgery and the ACL and that's been sort of a pattern of guys in the past. The first 20-30 games [after surgery] is an adjustment period. So I'm confident that he'll have the best year of his career."
Season highlight: Rondo was battling a bit of a turnover bug in early March, but snapped out of it in a big way. During a visit from the Pistons, Rondo handed out 18 assists without a single turnover. In the same game, Rondo leapfrogged Bill Russell to move into fifth place all-time among Celtics' assist leaders. It was a reminder of how Rondo can completely dominate the game from the point guard position.
Season lowlight: The Celtics were on the west coast in late February when Rondo elected to stay in Los Angeles to celebrate his birthday rather than accompany the team to Sacramento for the second night of a back-to-back. The ensuing BirthdayGate took on a life of its own and -- fair or not -- called into question Rondo's leadership. Rondo's own defiance about the issue didn't help matters, but both he and the team quickly moved on.
Final grade: B
Teacher's notes: We struggled with how to fairly grade Rondo this season. The hard part is determining what is fair expectations for a player returning from ACL surgery. If you asked me before the season what my expectations for Rondo were it probably would have been as simple as "return, kick some rust, and get a jump start on the 2014-15 season." And that's what he did, so it seems unfair to lower his mark based on the struggles he experienced while reacclimatizing. Rondo actually shot 40 percent beyond the 3-point arc in February, showcasing the work he put into his jumper during rehab, but that long-range touch faded a bit by season's end and he finished the season shooting 28.9 percent beyond the arc overall (still the second best mark of his career). On the more encouraging side, Rondo was excellent on the defensive glass (grabbing a career-best 18.4 percent of available caroms) and his turnover ratio fell with a heightened usage rate. The negative? looked disinterested as a defender at times, however, and must show more commitment to staying in front of his defender. The team's defensive rating of 110.2 when he was on the floor was more than 10 points higher than any other season in his career. We're intrigued to see what a healthier Rondo looks like in September and, really, that's the only grade that matters.
What's next?: Rondo will enter the final year of a contract that will pay him $12.9 million next season. The Celtics have tough decisions to make about his future and must be willing to pay a hefty salary if they plan to commit to him as one of their long-term building blocks. With Rondo expressing a desire to test unrestricted free agency next summer, the team would risk potentially losing him without compensation on the open market, which could force them to think harder on any trade interest that gets expressed this summer. The team has remained steadfast that they see Rondo in their future.
Honor roll: Click HERE to read past report cards.
Don't agree with teacher? Just want to sound off on Rondo's 2013-14 season? Leave your thoughts in the comments section.