LOS ANGELES -- Coach Doc Rivers says he turned down an opportunity to speak to Los Angeles Clippers owner Donald Sterling in the wake of the racist remarks allegedly made by Sterling. Rivers also says he believes Sterling made the remarks and that he isn't sure about his future with the team if Sterling remains the owner.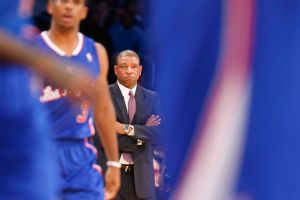 AP Photo/Danny Moloshok
Clippers coach Doc Rivers said on Monday that he isn't sure he would continue working for the team if Donald Sterling remains the owner.
"I was asked, do I need to talk to Donald, and I passed," Rivers said Monday during a nearly 30-minute conference call with reporters. "Quite honestly, I don't think now is the time or the place, for me at least, so I took a pass."
The comments allegedly made by Sterling were to his girlfriend, V. Stiviano, on an audio recording obtained and released by TMZ. The man making the comments urged Stiviano not to bring black friends to "my games."
When Rivers was asked if he thought the voice on the recording was Sterling's, he said, "Yeah, I believe he said those things."
"I still want to make sure it hasn't been doctored, but 'yes' is the answer," he said. "As far as believing those things, I heard what he said. Until someone tells me differently, you usually listen to what people say. I haven't given him his due process. I haven't given him an opportunity to explain himself and quite honestly right now don't want him to, or don't want him to to me. I'll wait for that further judgment."
Rivers said he isn't sure he could continue as the team's coach and executive vice president of player personnel with Sterling as the owner.
"For me, I honestly don't even want to answer that question, because I don't know," Rivers said. "This just happened ... I don't want to be part of this story. I don't have an answer one way or the other on that. We'll just wait and see."