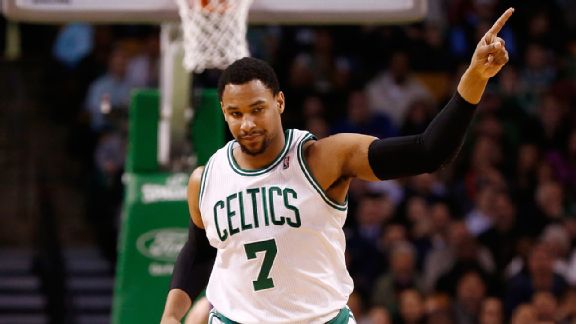 Mark L. Baer/USA TODAY Sports
Jared Sullinger was maybe Boston's best all-around player this season.With the Boston Celtics' 2013-14 campaign in the rearview mirror, we've busted out our red pens and assigned grades to each player based on their individual performances this season. Our annual reminder that players are graded based on expectations versus personal performance. This is the 10th in a series of end-of-the-season report cards:
Player: Jared Sullinger
2013-14 base stats: 13.3 ppg, 8.1 rpg, 1.6 apg, 42.7 FG%, 26.9 3PT%
2013-14 advanced stats: 0.887 Off ppp (43rd percentile); 0.807 Def ppp (79th)
2013-14 salary: $1.4 million
Season in a paragraph: His rookie campaign and first NBA offseason were cut short by back surgery and rehab, but the 22-year-old Sullinger bounced back strong in his sophomore season. Forced out of position without a pure center on the Celtics' roster, Sullinger held his own against the league's bigs, grading out as Boston's most efficient defender (based on Synergy's point-per-possession data). He was a relentless rebounder and finished among the league leaders in offensive rebounding. The team tinkered with his game, integrating a 3-point shot (to streaky results) while trying to add to his offensive toolbox.
GM's take: "Sully had a good year this year," said Celtics president of basketball operations Danny Ainge. "I think that he wants to be in better shape and we've talked about that all year and I think that he can. ... I think that, as you mature and you learn how to work harder and with more intensity, you learn how to push yourself to max effort. I think players can get better and I think that Jared is still very young. I don't think he understands yet how good he can be. Now, he's heard it. He's heard it from a lot of people, from his father to his agent, from his coaches, just how good he can be. But until he believes how good he can be and really puts in the time -- and I really believe that Jared will this summer, that he's going to and he'll be in better shape next year."
Season highlight: Sullinger put up a team-best 22 double-doubles, 13 of which came between Jan. 1 and Feb. 10. He was named the Eastern Conference Player of the Week in early February, but his most noteworthy outing in that span came the middle of January when he registered 25 points and 20 rebounds in an 88-83 triumph over the Toronto Raptors. Sullinger was the first Boston player to reach the 20/20 mark since Kevin Garnett (22 points, 20 rebounds) on Nov. 2, 2007.
Season lowlight: Sullinger's season nearly got derailed before it started as he was arrested and faced charges of assault and battery, destruction of property, and witness intimidation in connection with an Aug. 31 confrontation with his girlfriend. Charges were later dismissed, just days before the start of the season, but the Celtics were unwavering in their support of Sullinger as he navigated the legal process.
Final grade: B+
Teacher's notes: The Celtics spent much of the 2013-14 season experimenting with Sullinger, splitting his time between a starter (44 games) and a reserve (30 appearances) and tinkering with his offensive game. Even as minor injuries nagged at him for much of the year, Sullinger was a steady performer. When Brad Stevens was asked about his proudest moment of the season, he referenced a sequence in which Sullinger grabbed three consecutive offensive rebounds before scoring during a game in Toronto. "That's progress, that's something to point towards," said Stevens. Indeed, Sullinger's development, even at the expense of his stat line at times, was one of the bright spots of a loss-filled transition year.
What's next?: The Celtics have Sullinger under their control for at least two more seasons at the bargain rate of his rookie deal, including $1.4 million next season. Some have wondered if he could be Al Jefferson 2.0, the young talent that could be a centerpiece in acquiring the next superstar talent. The Celtics' preference, however, seems to be nurturing his game with hopes he'll be a key part of their next contending team. They can help him out by getting that pure center to pair next to him in the starting lineup.
Honor roll: Click HERE to read past report cards.
Don't agree with teacher? Just want to sound off on Sullinger's 2013-14 season? Leave your thoughts in the comments section.