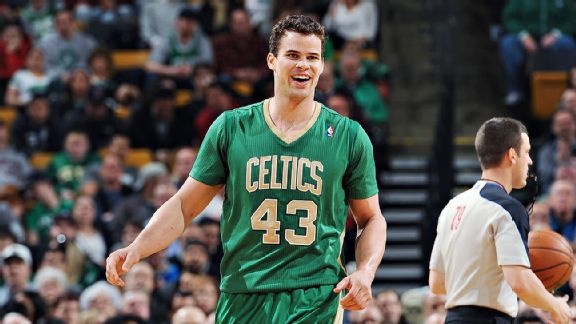 Brian Babineau/NBAE/Getty Images
Kris Humphries gave Celtics fans something to smile about.With the Boston Celtics' 2013-14 campaign in the rearview mirror, we've busted out our red pens and assigned grades to each player based on their individual performances this season. Our annual reminder that players are graded based on expectations versus personal performance. This is the 11th in a series of end-of-the-season report cards:
Player: Kris Humphries
2013-14 base stats: 8.4 ppg, 5.9 rpg, 0.9 bpg, 50.1 FG%
2013-14 advanced stats: 0.973 Off ppp (72nd); 0.831 Def ppp (68th)
2013-14 salary: $12 million
Season in a paragraph: There were groans when the Celtics acquired Humphries as part of last summer's blockbuster with the Brooklyn Nets. To the uniformed, he was an overpaid veteran better known for his reality TV foray than his on-court production. Humphries won everyone over, including the naysayers, by emerging as someone who led by example with a relentless work ethic, in games and on the practice court. He took younger players under his wing and would often jump into post-practice shooting (or sprinting) drills with them. Stuck deep on the depth chart at the start of the season, Humphries carved out a role for himself with his effort and ended up starting 30 of his 69 appearances.
Season highlight: The game we'll always remember from Humphries was the late-February trip to Sacramento. Humphries, thrust into a spot start with Jared Sullinger out due to a concussion, took on the challenge of guarding DeMarcus Cousins, who had put up 31 points and 16 rebounds in a recent visit to Boston. With nothing but hustle, grit, and physical play, Humphries worked Cousins into a lather. What's more, Humphries finished with 19 points, 8 rebounds, 4 assists, 2 blocks, and 2 steals over 36 minutes.
Season lowlight: It's hard to remember now, but Humphries logged five DNPs at the start of the season, playing only a total of 36 minutes over Boston's first nine games in November. Humphries just kept working and pounced when his opportunity came. He was a starting lineup fixture for much of the second half of the season.
Final grade: B
Teacher's notes: The only thing that held down Humphries' grade is his salary, which was the highest on the team. That's not his fault. He showed glimpses of the double-double threat that helped him earn that lucrative contract with the Nets. But what boosts Humphries' grade is the intangibles, most notably that work ethic that's so important for veterans to show on a young team. Humphries even embraced the rebuilding process, something no veteran wants to endure, with the goal of helping Boston get back to contender status.
What's next?: Humphries will be an unrestricted free agent this summer. The Celtics will have interest in bringing him back at a lower cost, but market interest could also lead to sign-and-trade options so that Boston is able to bring back some assets if they can't afford his price tag (particularly with a surplus of young power forwards).
Honor roll: Click HERE to read past report cards.
Don't agree with teacher? Just want to sound off on Humphries' 2013-14 season? Leave your thoughts in the comments section.