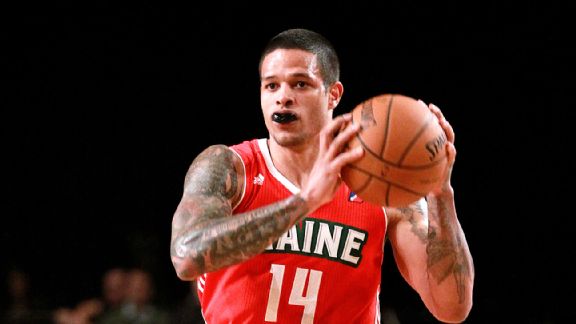 Jack Arent/NBAE via Getty Images
After starting the season with Maine, Chris Babb got an NBA call-up.With the Boston Celtics' 2013-14 campaign in the rearview mirror, we've busted out our red pens and assigned grades to each player based on their individual performances this season. Our annual reminder that players are graded based on expectations versus personal performance. This is the 13th in a series of end-of-the-season report cards:
Player: Chris Babb
2013-14 base stats: 1.6 ppg, 1.2 rpg, 26.7 FG%
2013-14 advanced stats: 0.667 Off ppp (6th percentile); 0.861 Def ppp (54th)
2013-14 salary: $133,000
Season in a paragraph: Undrafted out of Iowa State, Babb went to training camp with the Celtics in October and was Boston's final cut. He landed with the team's D-League affiliate in Maine and got the call-up, in part, due to the team's need for wing depth after Gerald Wallace was lost for the season. Like Chris Johnson before him, Babb made the most of his opportunity and, after two 10-day contracts, signed for the remainder of the season.
Teacher's notes: We'll hold off on giving grades to the late arrivals given their limited sample (but you can still vote in the polls). Babb might have led the team in claps per minute over the final two months of the season. Even when he was a healthy DNP, Babb was into the game and a quality teammate. Babb struggled offensively, shooting just 26.7 percent from the floor and 22.2 percent beyond the 3-point arc, but was mostly a competitive defender and his effort was obvious.
What's next?: Babb signed on for four seasons, but the final three are nonguaranteed. He'll stick with the organization to start this offseason, but as the roster crowds he could be moved as part of a trade package or set free to seek an opportunity elsewhere. If he survives the summer, he'll likely still be fighting an uphill battle to keep his end-of-the-roster spot in training camp.
---
Player: Joel Anthony
2013-14 base stats: 0.8 ppg, 1.2 rpg, 0.4 bpg, 37.5 FG%
2013-14 advanced stats: 0.71 Off ppp (9th percentile); 1.0 Def ppp (9th)
2013-14 salary: $3.8 million
Season in a paragraph: Anthony arrived in mid-January as part of the three-team swap that sent out Jordan Crawford and MarShon Brooks in exchange for a collection of future draft picks. The 31-year-old center played sparingly and only once did he reach double figures in minutes before April. The quiet Anthony didn't appear to quibble about his role and stayed ready for his opportunity.
Teacher's notes: Brad Stevens often pointed to Anthony as the sort of defensive presence the team could use to protect the rim, but he rarely called on him until the final games of the season. Anthony has a couple championship rings from his time in Miami, but he's struggled to find a consistent role since starting 51 games for the Heat during the 2011-12 season.
What's next?: All indications are Anthony will pick up the $3.8 million player option he has for next season as he clearly won't fetch that price tag on the open market. Will he be back in Boston? That will likely depend on whether the team can include his deal in any offseason move. Given his limited role this year, you get the sense that the Celtics must be confident that's possible after taking on his contract as part of a deal that's likely only to deliver second-round draft picks (albeit, potentially high ones from the 76ers).
Honor roll: Click HERE to read past report cards.
Don't agree with teacher? Just want to sound off on the 2013-14 season for Babb or Anthony? Leave your thoughts in the comments section.