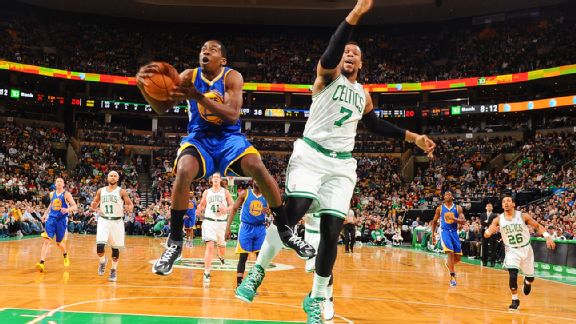 Brian Babineau/NBAE/Getty Images
Jordan Crawford helped Boston to some of its best basketball this season.With the Boston Celtics' 2013-14 campaign in the rearview mirror, we've busted out our red pens and assigned grades to each player based on their individual performances this season. Our annual reminder that players are graded based on expectations versus personal performance. This is the 14th in a series of end-of-the-season report cards:
Player: Jordan Crawford
2013-14 stats with Boston: 13.7 ppg, 5.7 apg, 3.1 rpg, 30.7 mpg, 39 games
2013-14 stats with Golden State: 8.4 ppg, 1.4 apg, 1.5 rpg, 15.7 mpg, 42 games
2013-14 salary: $2.2 million
Season in a paragraph: Crawford got first crack at filling Rajon Rondo's shoes while the All-Star point guard rehabbed from ACL surgery and turned in the best basketball of his career. Crawford was spectacular, even earning the Eastern Conference Player of the Week award in December. But he became expendable as Rondo neared a return, and the Celtics shipped him to Golden State (along with MarShon Brooks) in a deal that brought back some draft picks and Joel Anthony. The chance to join a contender was offset a bit by the fact that Crawford's minutes were sliced in half.
Teacher's notes: Steez, how we miss thee. You could make the case that Crawford was the MVP for Boston at a time when they were hovering around .500 ball in early December. The Celtics went 12-31 (.279 winning percentage) after dealing Crawford away. Here's hoping someone gives Crawford another chance to prove himself in a big role wherever he lands next. Most Celtics fans were ready to move on from Crawford after he was barking at Carmelo Anthony during the 2012-13 playoffs, but he endeared himself with his play at the start of the 2013-14 season.
---
Player: Courtney Lee
2013-14 stats with Boston: 7.4 ppg, 1.6 rpg, 49.2 FG%, 44.2 3PT%, 30 games
2013-14 stats with Memphis: 11 ppg, 2.8 rpg, 47.6 FG%, 34.5 3PT%, 49 games
2013-14 salary: $5.2 million
Season in a paragraph: The Celtics were lauded for the steal of the offseason in 2012 when they used a collection of nonguaranteed contracts and second-round picks to land Lee in a multiteam swap. He never quite found his groove in Year 1 and despite some excellent shooting percentages early in the 2013-14 campaign, Boston made the move to clear Lee's long-term salary commitment (while also bringing Jerryd Bayless back in return).
Teacher's notes: It's rare that a trade works out so well for both sides, but the Celtics and Grizzlies each got what they wanted out of the deal. Lee never quite thrived here and the Celtics were willing to give up the more talented player in the swap in order to clear his salary. Lee ended up starting 47 games in Memphis and helped the Grizzlies get into the playoffs.
---
Gone but not forgotten: Keith Bogans would get the harshest grade on the team if we let fans vote. The 33-year-old veteran guard played just 55 minutes over six games while taking home $5.1 million for his role in the Celtics-Nets swap. He was excused in mid-January, but stuck on the roster because the nonguarnateed money in his deal makes him a valuable trade asset this summer. ... MarShon Brooks played only 73 minutes in 10 appearances and Golden State dealt him away after little more than a month after acquiring him. ... Vander Blue got a 10-day contract in late January with the team thin on bodies, but appeared in only three games.
Honor roll: Click HERE to read past report cards.
Don't agree with teacher? Just want to sound off on the 2013-14 season for Crawford, Lee, Brooks or Blue? Leave your thoughts in the comments section.