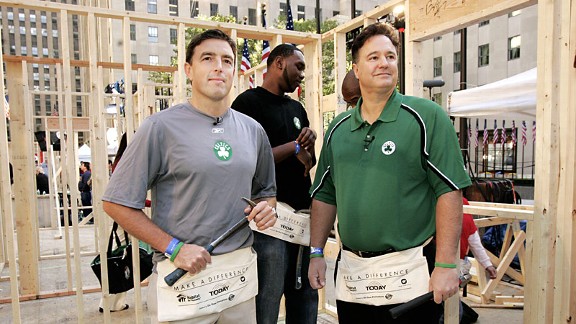 Jennifer Pottheiser/NBAE/Getty Images
Celtics co-owner Steve Pagliuca, right, will represent the team at the draft lottery.The Boston Celtics announced Friday that co-owner Steve Pagliuca will represent the team at the 2014 NBA Draft Lottery on May 20.
Each team typically sends two representatives, one that's stationed behind the scenes for the actual lottery drawing earlier in the day, and a second that represents the team during ESPN's television broadcast when the results are revealed.
Teams have typically sent general managers, coaches, and owners. Recently, we've seen more outside-the-box selections like players or children of owners (Cleveland Cavaliers owner Dan Gilbert's son Nick has twice helped the Cavs win the lottery in recent years).
Boston sent legend Tommy Heinsohn back in 2007 when it had the second-best odds at the top pick. Instead, three teams vaulted into the top 3 spots, pushing Boston to its worst possible position at fifth overall. Things worked out, however, as the team later traded the pick to begin the process of uniting the Big Three of Paul Pierce, Kevin Garnett, and Ray Allen that won a title the following season.
The Celtics could use a little lottery luck. Back in 1997, after posting the worst winning percentage in team history, Boston also had the second-best odds at the No. 1 pick (and had a second set of ping-pong balls via a previous trade with the Mavericks, who had the sixth worst record), but watched San Antonio leapfrog to the top spot, pushing Boston to third (and sixth) overall.
Boston owns a 10.3 percent chance at the top pick this season.
Managing Partner & Alternate Governor Stephen Pagliuca will be representing the Celtics at the 2014 NBA Draft Lottery.

— Boston Celtics (@celtics) May 2, 2014