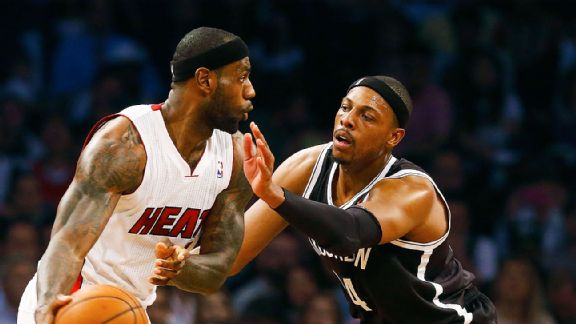 Jim McIsaac/Getty Images
It's LeBron James vs. Paul Pierce, again.We've told this story before, but it seems appropriate again now...
In the aftermath of Boston's 2007-08 championship season, the Celtics held a championship DVD viewing party at the Legends Club inside TD Garden. While most players mingled, Paul Pierce sat at the bar, a glass of wine in hand, and shook his head as he watched highlights from Boston's second-round triumph over LeBron James and the Cleveland Cavaliers.
"Man, LeBron is a beast," Pierce sighed to no one in particular while watching another slow-motion sequence in which James and Pierce drew cringe-worthy contact, sweat droplets scattering in every direction with every car-crash type collision.
And now they'll meet again, and you might as well call them the Brooklyn Celtics because it's clear who Boston will be rooting for when the Nets and Heat meet in the 2014 Eastern Conference semifinals.
How does Pierce feel about another joust with James? From our friends at ESPN New York:
There won't be happy feelings when Paul Pierce and Kevin Garnett renew their rivalry with LeBron James and the Miami Heat. But it certainly feels like old times all over again with LeBron battling Pierce and Garnett in a best-of-seven series.

"Yeah, it's seeming like that, eh?" Garnett said after the Nets survived 104-103 in a Game 7 win over Toronto. "It seems like that. It seems like we're seeing [Dwyane] Wade and LeBron for the past seven, eight years.

"That's what it is, man," Garnett continued. "The best is playing the best. All right? You guys take it easy."

Let the rivalry start up again. The two former Celtics will be facing James for the fifth time in seven postseasons, dating back to when James was a Cleveland Cavalier.

Garnett and Pierce have split the four meetings with James but haven't beaten their nemesis since he joined the Heat. In the 25 playoff games they have played during those four series, Pierce and Garnett are 12-13 overall against James. Their last playoff meeting in 2012 went seven games, with Miami surviving against Boston in the Eastern Conference finals.

Pierce relishes every opportunity he gets to play against James. This season, Pierce averaged 21 points against Miami and helped lead the Nets to a regular-season sweep (4-0) of the Heat. It was the first time James has lost four straight to a team in a regular season in his career.

"I rank LeBron as one of the greatest players to ever play the game," Pierce said. "A tremendous athlete, four-time MVP, two-time champion, he's already passed so many greats that we still talk about. And when you play against the best, as a competitor, you want those moments.

"I consider myself a great competitor who wants to be in those moments, who wants to play against who people call the best," Pierce added. "Just over the years matching up with him, Kobe Bryant, Vince Carter, Tracy McGrady, all the guys who were in my era who were great wing men, you want those moments."