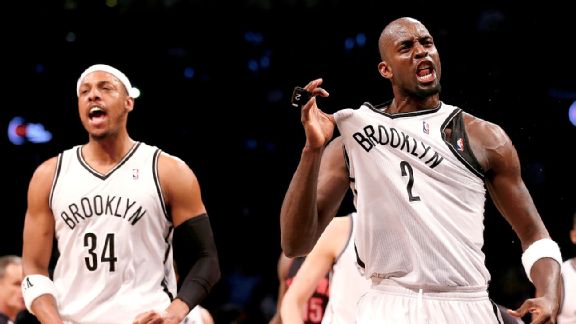 Elsa/Getty Images
Brooklyn Celtics? Boston Nets? Many Celtics fans are ready to root for New York.The idea of rooting for a New York team is enough to make your typical Boston sports fan ill. But for the next two weeks, that's exactly what will happen for many Celtics fans.
Hello Brooklyn.
Yes, Celtics fans are piling on the bandwagon as the Nets prepare for Tuesday's Game 1 of an Eastern Conference semifinal series against the Miami Heat. Some Boston fans (though surely not all) will render themselves color blind to root again for Paul Pierce and Kevin Garnett as they prepare for another showdown against a LeBron James team (the fifth such meeting in the past seven seasons).
Make no mistake, embracing Brooklyn isn't easy for these fans. The mere sight of Pierce and Garnett in Brooklyn's black and white colors may never look quite right to Boston fans. But in the 10 months that have passed since Boston-Brooklyn blockbuster trade was put in place, most Celtics fans have come to understand it was a necessary evil to ensure the long-term sustainability as the Celtics.
Boston is hoping the three future first-round picks secured in exchange for a short-term rental of Pierce and Garnett will thrust Boston back into these sort of key playoff series, while Brooklyn's bloated payroll will challenge them to maintain contender status as Boston begins collecting those picks.
Even still, as the Celtics labored through a 25-57 season, few embraced the Nets. Many Celtics fans snickered as Brooklyn stumbled out of the gates to open the 2013-14 season, to the point where some felt bad for Pierce and Garnett before Brooklyn steered its wayward ship back on course.
Nostalgic fans showered Pierce and Garnett with appreciation when they returned to Boston in January, maybe the most memorable moment from a transition season.
Yet, as Boston's season ended with a whimper in mid-April, fans were still slow to flock to playoff-bound Brooklyn. A lot of Celtics fans found themselves rooting for the upstart Toronto Raptors during a thrilling first-round series.
But that all changed on Sunday. On the game's final play, it was Pierce and Garnett providing the key defense, and Pierce blocked Kyle Lowry's attempt at a winning layup at the buzzer to help Brooklyn advance.
Now Pierce and Garnett get another crack at James and the Heat, the team that thwarted what would have been a third trip to the NBA Finals for Boston's Big Three by rallying to win the 2012 Eastern Conference finals.
Without a horse in the race during these tantalizing playoffs, many Boston fans are hitching their wagons to Brooklyn. Sure, it was a lot easier when it was, say, Ray Bourque who was sent on a championship quest with the Colorado Avalanche. But this is the way it has to be. May it be the best Boston-New York collaboration since Aerosmith and Run DMC.
Sure, Boston fans could rally around former coach Doc Rivers and the Los Angeles Clippers, particularly given the headaches they've endured during the postseason. But some are still sore that it was Rivers who chose to leave town.
Many Celtics fans will root for Oklahoma City because of old friend Kendrick Perkins, just like they supported a team like Memphis (Courtney Lee, Tony Allen) in the opening round. But there's simply something different about Pierce and Garnett.
Those two were the face of the franchise and the key elements for a team that ended a two-decade championship drought during the Big Three era. Even now some wonder what could have been if Pierce and Garnett were still in Boston -- might the Celtics have been able to get to this point had they kept the core together?
That didn't happen. Boston made a tough decision to look to the future. It's a long summer for Celtics fans. But instead of ignoring the playoffs, their interest in now heightened with Nets-Heat.
You see, the Celtics and Heat were the biggest rivals in the East in recent seasons. It was Big Three vs. Big Three when James and Chris Bosh arrived in Miami, and Ray Allen's defection to South Beach only added fuel to the fire.
Part of why it was so hard to say goodbye to Pierce and Garnett was because we knew there'd never be another Celtics-Heat matchup.
But Nets-Heat is about as close as we'll get. It's a chance to turn back the clock, and see if Pierce and Garnett can do the same.