The NBA's annual draft combine has flown under the radar in these parts in recent years. The league's biggest pre-draft soiree has typically been overshadowed by the Boston Celtics' postseason forays and the fact that the Green have often been picking at the back end of the first round because of that on-court success.
A 57-loss transition season leaves Boston with a 10.3 percent chance of landing the top overall selection in June's draft and there's a lot more interest in this year's event, which tips off on Wednesday (with ESPN devoting a total of 10 hours of TV coverage when media access is open on Thursday and Friday).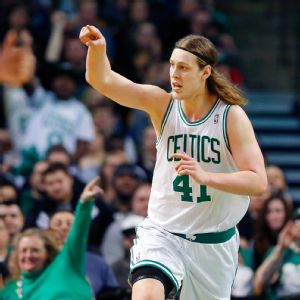 AP Photo/Michael Dwyer
Kelly Olynyk, who Boston traded up three spots to draft at No. 13, was among the slowest players in timed drills at last year's combine.Alas, those in the know downplay the overall significance of the Chicago combine. As Celtics president of basketball operations Danny Ainge is quick to point out, it's simply the next step in evaluating prospects that his staff has been tracking through months -- or years -- of college and overseas scouting.
The fact that the draft's top three prospects -- Andrew Wiggins, Jabari Parker, and Joel Embiid -- are all sitting out this year's event only strips another layer of shine from the event.
The biggest buzz from the combine typically comes when results from the athletic testing are revealed. Armchair general managers will rhapsodize about hand size and no-step vertical leap, while others will counter by recalling Kevin Durant's inability to complete a single bench press rep of 185 pounds at the 2007 combine as proof that little should be gauged from the anthropometric portion of the event.
Ainge doesn't put much stock in those numbers. The Celtics run their own sets of athletic testing when they bring prospects in for workouts and find those much more reliable. As Ainge stresses, "We really trust our numbers."
If you're wondering how much stock the Celtics put in the public numbers from events like the combine, you need only look at last year's event. The team's two selections -- Kelly Olynyk and Colton Iverson -- graded out as two of the most unathletic players in the field. Olynyk, who Boston traded up three spots to snag at No. 13, was among the slowest players in timed drills and finished in the bottom five of nearly all of those events (save for lane agility).
The draft gurus at DraftExpress created a composite ranking of all the players tested at last year's event and, out of a field of 52 ranked players, Olynyk finished 48th and Iverson owned the spot in front of him.
Ainge subscribes to the notion of "utilized athleticism," or the way a player uses his given abilities in the context of his game.