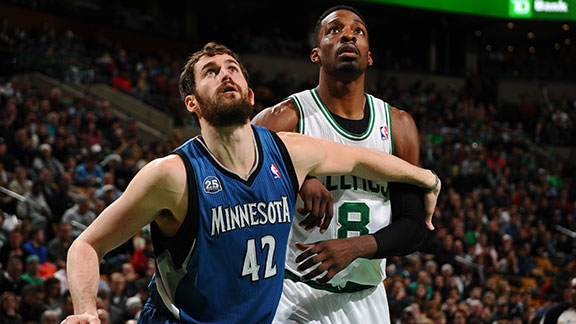 Brian Babineau/NBAE/Getty Images
Do the Celtics have the assets to land someone like Kevin Love?Minnesota's Kevin Love is in the headlines ahead of the offseason with sources suggesting that he has no interest in a contract extension, which could force the Timberwolves to consider trading him because of the risk of losing him next summer on the open market.
Although sources say Love has stopped short of demanding a trade, his position could effectively force the Timberwolves to deal the All-Star forward before next season -- or before the trade deadline in February 2015 at the latest -- if they hope to dodge the risk of losing him without compensation.

Sources told ESPN.com that the Golden State Warriors and Chicago Bulls are among the potential trade destinations that intrigue Love. The Los Angeles Lakers and New York Knicks have likewise been mentioned all season as big-market landing spots that would tempt Love, but going to the best situation for immediate contention is said to be the power forward's priority. Sources say that the Phoenix Suns, armed with several draft assets to offer Minnesota, also have strong interest in trading for Love, but the 25-year-old's interest in joining the Suns is unclear.

Any team that trades for Love before he hits the open market in 2015 would naturally need assurances that they can keep him before surrendering quality assets. The Timberwolves, at the behest of owner Glen Taylor, have rebuffed all trade interest in Love for months, clinging to hope that they can still sell him on committing for the long term and relying at least partly on the belief that he would be unwilling to walk away from the extra year -- worth roughly $30 million -- in his next deal that he can only get from Minnesota if he becomes an unrestricted free agent.
[Sources: Love not interested in Wolves deal]
A Yahoo! Sports report about Love included the Boston Celtics as an interested party while citing sources that suggested, "Boston and Los Angeles plan to make high-lottery picks in the 2014 NBA draft available in offers for Love."
A couple of thoughts here:
• The Celtics, with their public desire for "fireworks" this offseason and a treasure trove of assets, are invariably going to be mentioned as potential suitors for top available bodies. The team's brain trust has maintained that there are multiple plans in place this offseason with the team's draft position -- set to be determined on Tuesday night -- a big factor in how exactly the team will attack the offseason. With the potential to bundle draft picks (nine first-round picks over the next five drafts) with potential young talent (like recent draftees Jared Sullinger and Kelly Olynyk), Boston can at least thrust itself into the mix for any available superstar. And with so many parallels to the Kevin Garnett deal, the team will be impossibly tied to any Love chatter.
• The Celtics are in a somewhat similar situation with point guard Rajon Rondo, who has expressed a desire to test unrestricted free agency next summer. Rondo will enter the final year of his current deal next season and Boston run the same potential risk of watching him walk away without compensation. Like the Wolves, Boston must balance its desire to keep Rondo as a cornerstone of the franchise moving forward, knowing how much the next deal is going to cost and knowing he will be have plenty of suitors on the open market. It would seem fair to suggest that both the Celtics and Wolves have to at least listen a little closer to all potential deals that float their way this summer, though neither has to make a move.