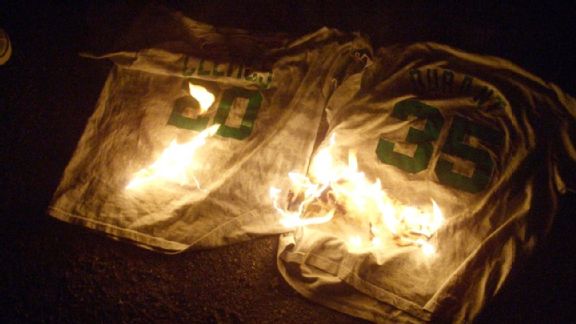 Courtesy Jack Hamilton
The draft lottery hasn't been kind to the Celtics. Is trading in their ticket the best option yet again?My fondest memory of the NBA draft lottery happened in May 2007. The previous fall I'd moved back to the Boston area, where I'd been born and raised, and for my homecoming had endured one of the worst seasons of Celtics basketball history. In January and February they'd lost 18 straight games; I'd watched every one of them. Sometime during that slump a friend and I ordered custom-made T-shirts bearing the names and numbers of Greg Oden and Kevin Durant, everyone's consensus top two picks that year. On lottery night, we convened at another friend's house to witness America's most-watched pingpong balls take their course. The Celtics -- owners of the NBA's second-worst record and, to our minds, rightful inheritors of either Oden or Durant -- landed the fifth pick. A few hours later, on a deserted Cambridge street, the photo above happened.
It's odd that this is my fondest lottery memory. That night was a traumatic and unhinged ordeal that could have easily landed several people in jail. But it was also a great evening, full of the ridiculous overinvestment and childish camaraderie that remind us why we follow teams in the first place. And of course it's also my fondest memory because of what happened in the months after, when team president Danny Ainge spun crushing disappointment into one of the greatest offseasons in the history of pro sports. On draft night in June, Ainge flipped that hated fifth pick (along with Delonte West and Wally Sczerbiak) to the Seattle Supersonics for All-Star shooting guard Ray Allen. A month later, he shipped half a roster's worth of future commodities to Minnesota for all-world power forward Kevin Garnett. The following June, Allen, Garnett and franchise icon Paul Pierce were clutching the Larry O'Brien Trophy in the TD Garden locker room.
Right now, that feels like a long time ago. Tuesday night, at the team's first lottery visit since that fateful, fiery night in 2007, the Celtics landed the sixth pick in the 2014 NBA draft. This wasn't the absolute worst-case scenario, but it certainly wasn't what anyone was hoping for, even if it was what everyone probably should have been expecting. And if history is any indication, it's cause for concern. The Celtics, you see, have draft difficulties, and by that I'm not simply referring to the fact that in the 29 years since the lottery began, the Celtics have never won the first pick. Complaining about lack of luck on behalf of any team that's won 17 NBA titles is remarkably obnoxious, and I won't do it here.
Besides, the Celtics' draft misadventures over the past few decades haven't been due to lack of luck, but rather lack of skill. Aside from a few scattered bright spots (Rajon Rondo at 21 with Phoenix's pick in 2006, Paul Pierce at 10 in 1998) the modern-day Boston Celtics have not drafted well, and their trips to the lottery have been spectacularly inept. In fact, with the exception of Pierce -- a no-brainer who inexplicably fell to the team during one of the more erratic first rounds in NBA history -- the best lottery choice the Celtics ever made was in 2007, when they chose against making a choice at all.