WALTHAM, Mass. -- Kentucky's Julius Randle was being peppered with questions about whether his right foot will require surgery after the draft when the conversation swung to his just-completed workout with the Boston Celtics.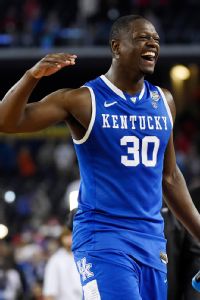 Robert Deutsch/USA TODAY Sports
Freshman Julius Randle averaged 15.0 points per game and 10.4 rebounds in his only season at Kentucky.Randle still bristled a bit, particularly when asked why he chose to work out alone rather than with the talent-loaded six-man group that was still going through drills while he met with reporters.
"Less risk of injury," said Randle. "There's no me being afraid of competing. I think guys know that competing is what I do."
The 6-foot-9 Randle is one of the draft's most intriguing players. Back at the start of the college season, he was in the conversation with Andrew Wiggins and Jabari Parker as potential top picks, but soon saw Kansas big man Joel Embiid take his spot. Now Randle seems to project as more of a mid-lottery guy and you can't help but wonder if the concerns about his foot might leave prospective teams even more hesitant.
So what was Randle trying to show during his morning workout with the Celtics, who own picks Nos. 6 and 17 in this year's draft?
"Just that, if I come here, I'm going to give my all," he said. "I'm going to compete and do the best I can. Especially with these guys. They know what you can do, they know the type of player you can be. But I just try to be myself. I think off the court, them seeing what kind of person you are. The character that you have is the most important thing. They've done their job all year, scouting what type of player you are."
Randle's visit comes at the tail end of a week in which the Celtics auditioned many of the top names expected to be available at No. 6. Both Noah Vonleh and Aaron Gordon, two of the other power forward types that could be in the mix when Boston is first on the clock, elected to go through group workouts. Friday's six-man session featured six first-rounders, including five players with lottery potential in Oklahoma State's Marcus Smart, Michigan's Nik Stauskas, Michigan State's Gary Harris, UCLA's Zach LaVine, and Louisiana-Lafayette's Elfrid Payton. Randle worked out before the group took the floor.
Celtics coach Brad Stevens, who has led the team's pre-draft workouts, said it can actually be a little tougher on players to go through an individual session.
"I think it's harder for the player because everybody is just sitting around watching one guy instead of six, [when in a group] at least there's somebody else out there with you," said Stevens. "But I thought he did a good job. Julius -- and I sat with him in Chicago as well -- he's a very mature kid and works the right way. He's maybe a guy that's going to be good for a long time. He did a good job today."
Added Stevens: "Obviously, a big strong guy, is very, very quick, light on his feet. By the time it's all said and done, I think he's going to have NBA 3-point range. I think he's going to be a really good player, obviously. I'm not telling anybody anything they don't know."
Randle: 'My foot is fine'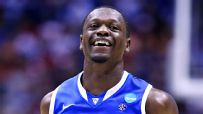 Kentucky forward Julius Randle downplayed reports that his right foot might require surgery after this month's draft. Story >>Stevens said that Randle got full clearance from the Celtics' team doctors and showed no signs of any issues with his right foot during the workout.
The book on Randle is that he's a versatile power forward with an NBA body who is able to play with his back-to-the-basket. Questions arise with his jump shot and defense. Randle said he doesn't concern himself with expert projections or those that nitpick his game.
"I go out there and I let my game do the talking," said Randle. "There's no point of saying anything. At the end of the day, you have to go out there, you have to put your shoes, your jersey, and your shorts on the same way and you have to produce. Projections and potential and all that stuff, all I can do is go out there and work hard and produce."
Randle said he had a brief chat with Celtics captain Rajon Rondo, another Kentucky product, noting that he likes Rondo's competitiveness and "would love to play with him."
What advice did Rondo dispense to Randle?
"He just told me to be myself, to enjoy the process," said Randle. "A 19-year-old kid going through this, it can be a lot. But just to really enjoy the process and have fun with it and don't let outside distractions take away from the joy of the process. That's what I've been trying to do, that's what my family has told me to do. That's what I'm going to continue to do."