WALTHAM, Mass. -- By the time the NBA Draft arrives next Thursday, the Boston Celtics will have brought in just about every available draft prospect -- at least those willing to work out for the team -- in what's essentially the final evaluation in a tireless college scouting process.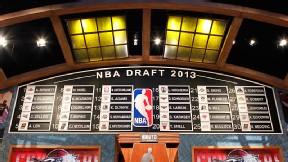 Mike Stobe/Getty Images
As this draft board fills up, the Celtics rely on their pre-draft rankings to help guide them.Now comes the hard part: Positioning all the players on a draft board to be able to best react when the pick-a-palooza begins.
While Boston has one of the smaller front offices in the league, there's still plenty of cooks in the kitchen, all likely with unique opinions on what ingredients are best for this rebuilding stew. Celtics president of basketball operations Danny Ainge will take advice from his staff -- helmed by assistant general manager Mike Zarren and director of player personnel Austin Ainge -- as well as head coach Brad Stevens and team staffers. But determining how to best arrange those names on the team's board in advance of the draft is an inexact science.
"I say we do lists, kind of informally, all the time throughout the year," explained Austin Ainge. "We'll just be sitting there, saying, 'Well, all right. Let's put them in order.' I think it's easiest for us to do it right now by position. It's hard to compare across positions. This week, as we get closer to the draft, we start [focusing on one overall ranking] because sometimes the fifth-best point guard is better than the second-best shooting guard. But it's easier by position for us. I think it's harder when you start doing a total list."
The Celtics have utilized many different methods and models in trying to arrange players, including something as simple as having each staffer submit a numerical ranking and determining the average. As Austin Ainge notes, "We've done a million different things. But in the end, it's Danny's final call and we all offer opinions."
The Celtics' front office staff spends much of the year spanning the globe to see draft hopefuls in action. The draft board conversation never stops, but names don't really start getting organized until late June.
"We don't have up-or-down [discussions] early in the year, but basically we argue about which players we like constantly, just like you do with your buddies at home," said Austin Ainge. "It's what we do every day. So, yeah, that's a constant battle. At the same time, we try to make it where, whoever is the best arguer doesn't win. We try to have some substance to it and keep emotion out of it. There's been some studies done that when you argue for a person, you start to like them more, and when you argue against them, you start to dislike them. We try to remove those things and so sometimes we take turns arguing for and against different guys to try to balance guys a little bit."
For Stevens, this is his first draft process. He's been running prospects through the team's private workouts and leaning on his knowledge of draft hopefuls from his time at Butler University.
"I have not sat down with our front office, all in one room, and talked about a draft board," Stevens said last week. "What I usually do is I keep my own list of what I saw from the workouts and kind of go from there and communicate from that. We'll sit down now, after probably [this] week's workouts, and talk more as we continue to get closer to the draft. But clearly with two picks in the top 20, we've got a lot of evaluating to do."
Added Stevens on Thursday: "I think it's always exciting to see 40 different guys, but we have two picks. Only two of them will ultimately be on our team. I think that making the right decisions is important."
The goal for the Celtics is to go into the draft as prepared as possible and react as the event unfolds. Players climb, players slide, and trades occur. The teams that can best react to the dizzying action, particularly with only five minutes between picks, give themselves the best chance of making the most of the night.
The Celtics, who own picks Nos. 6 and 17 entering the draft, will attempt to project how the draft will play out before they're on the clock, but inevitably there are curveballs.
"Not just draft board, but also trades," said Austin Ainge. "Because, what if there are a certain number of guys we really like and they're all off the board? At that point, do we trade, and for whom? We go through all those exercises."
He added: "Even though we all feel like we all know what order it's going to go in this time of year, no one had Anthony Bennett No. 1 last year. No team is going to tell us the truth. No agent is going to tell us the truth. So we try to use logic and deduce and small things, but we really don't know. We tried to be prepared for any eventuality."
The Celtics must not only react to their two picks, but also consider the benefits of picking at different positions where value can be maximized. The team doesn't own a second-round pick in this year's draft, but has scouted many players projected to go after pick 17 because there will be an opportunity to buy extra picks if a team desires to add an intriguing prospect. Last season, Boston purchased the 53rd pick from Indiana to select Colton Iverson, who spent a year overseas and is now working out with the team in hopes of making the 2014-15 roster.
During the 2013-14 season, Stevens often preached the importance of preparation, noting that the work done in advance of games is crucial to putting the team in position to succeed on the court. The same theory stands with the draft. Years of scouting and research will play out in minutes on Thursday night and the Celtics simply hope their preparation leads to good decisions.