WALTHAM, Mass. -- Part of the reason the Boston Celtics attempt to bring draft hopefuls to town is an ability to have those players examined by the team's medical staff and gauge the seriousness of any issues a player might be dealing with.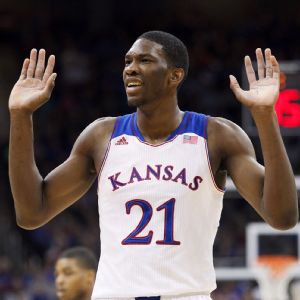 Jeff Moffett/Icon SMI
Joel Embiid needs foot surgery.With news that Joel Embiid has suffered a right foot injury and is scheduled for surgery, Celtics director of player personnel Austin Ainge admitted it adds a layer of difficulty and intrigue to the draft process.
"[Injuries] are always concerns, especially when it's a player like [Embiid] that we won't be able to have in [and] evaluate to really get the risks from our medical staff," said Ainge. "There's a lot of guess work involved, but you're always trying to weigh short term and long term. We try to think long term that, if a guy has to miss a couple months, that shouldn't deter us from taking him if he's going to be the best player long term."
Ainge noted how that's been a recipe for success for the Celtics. Back in 2010, concerns about a chipped bone in Avery Bradley's ankle helped him slide to Boston at No. 19. Bradley's rookie season was deterred as he was forced to play catchup after missing extended time following post-draft surgery, but he'd go on to supplant Ray Allen as the team's starting shooting guard the following season.
Two years later, a disc issue allowed Jared Sullinger to plummet from the lottery into Boston's lap at No. 21. The back issue flared midway through his rookie season, forcing Sullinger to undergo season-ending surgery, but the team believes the issue has been corrected and it didn't hinder him during a successful sophomore season.
"We had some success with that with Avery and Sully in the draft sliding to us," said Ainge. "Even Leon Powe slid all the way [to the second round, 49th overall, because of concerns about his knees]. And, unfortunately, Leon's knees gave out eventually, but we got good years out of him. There can be some value there, but there's always risk."
The lingering question now is will Embiid slide due to injury concerns and his recovery timeline. Would the Celtics pounce on the chance if he slipped all the way to No. 6. Red flags, as well as surprise picks, can invariably alter the way a draft unfolds.
"Even though we all feel like we all know what order it's going to go in this time of year, no one had Anthony Bennett No. 1 last year," noted Ainge. "No team is going to tell us the truth. No agent is going to tell us the truth. So we try to use logic and deduce and small things, but we really don't know. We tried to be prepared for any eventuality."
Read on for more notes from Thursday's session:
• IGNORING THE NOISE: As the NBA world reacts to every twist and turn in the Kevin Love saga, Ainge said the Celtics try to block out all the reports and whispers leading up to the draft. "Ignore all of it," said Ainge. "It's all planted on purpose. Anyone who's willing to talk, even off the record, this time of year has an agenda and is trying to accomplish something. We ignore absolutely all of it." Echoed Brad Stevens when asked about talking to Danny Ainge in advance of the draft, "The great thing about working for Danny, we don't talk about everything that's being talked about, right? We just talk about what is really going on in his eyes. We spent a lot of time on talking about the draft and talking about how to best evaluate these guys, because these two picks are very important."
• NO REAL HINT ON PICKS: Ainge was asked if he thought the team's first-round picks had come through on a pre-draft visit. "That's very possible. Very possible," he said as reporters eyebrows short skyward. He quickly cautioned, "We've had most of the guys in at this point, so that's not really revealing much. But we've had a lot of guys in that we like."
• LATEST WORKOUT: Boston's workout on Thursday featured UCLA's Jordan Adams, Missouri's Jabari Brown, Oklahoma State's Markel Brown, Butler's Khyle Marshall, Rhode Island's Xavier Munford, and Dayton's Devin Oliver. Stevens is obviously familiar with Marshall and said, "He's a good athlete, who has really gotten better. It was fun to have him through. I look forward to spending more time with him later on in the afternoon, because he got in late [Wednesday] night."