WALTHAM, Mass. -- While headlines about the Boston Celtics continue to be dominated by speculation about who the team might potentially covet or the moves the team might make moving forward, head coach Brad Stevens stressed Thursday that his focus is on the more definitive.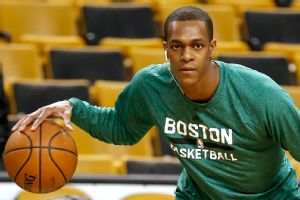 Winslow Townson/USA TODAY Sports
Rajon Rondo and the Celtics are already working towards the 2014-15 season.Stevens spends these offseason days overseeing a core group of returning veterans as they engage in morning workouts before leading draft hopefuls through a late-morning session. The Celtics currently own picks Nos. 6 and 17 in next week's draft, but even as a heavy focus is placed on auditioning potential newcomers, Stevens stressed that his attention must ultimately fall on the guys he's most certain will be here.
"I've enjoyed seeing all the different guys through," said Stevens. "But it's very much focused on the task at hand. And a lot of my attention over the last couple weeks has been with the young [returning] guys that are here for us. Just making sure that we're getting in the gym and getting the right work done with the guys that are here. I think it's always exciting to see 40 different [draft hopefuls], but we have two picks. Only two of them will ultimately be on our team."
The Celtics have had a core group of about seven players at the facility recently, typically headlined by the likes of team captain Rajon Rondo, Jared Sullinger, Kelly Olynyk, Phil Pressey, Chris Babb, Chris Johnson, and Colton Iverson, with some other veterans dropping in at times.
Stevens and his staff script out workouts with a focus on building toward the 2014-15 season. Some of it is routine, with players breaking into positional groups and engaging in basic skill work. But the pack might gather for more specific work with focuses on the team's offensive playbook or what Stevens likes to call the team's "defensive DNA."
Remember that Stevens did not have this luxury last season. He was hired in early July and spent much of the next month simply getting his feet wet and learning about his players. The Celtics endured a 57-loss rebuilding season in Stevens first year at the helm and the focus now is on making the strides necessary to move forward next season -- regardless of whether there are "fireworks" that bring in more established talent.
Co-hosting ESPN's Numbers Never Lie on Thursday, Rondo was pressed on whether he'd be disappointed if the Celtics were unable to land Kevin Love via trade this offseason.
"I can't go to sleep every night wanting to try to play with Kevin Love," said Rondo. "Right now I've got to go with the guys we have now in our locker room, and coach [Brad] Stevens. So that's what I'm focused on."
The Celtics will potentially add two more bodies at next week's draft and more roster hopefuls will be recruited for the summer squad. That group is expected to work out together in Waltham before trekking to Orlando for a five-game summer league slate.
Trades might very well occur, but Stevens doesn't get caught up in the ever-changing buzz.
Asked about talking about those whispers with Celtics president of basketball operations Danny Ainge, Stevens said: "The great thing about working for Danny, we don't talk about everything that's being talked about, right? We just talk about what is really going on in his eyes. We spent a lot of time on talking about the draft and talking about how to best evaluate these guys, because these two picks are very important."
Celtics director of player personnel Austin Ainge had said that you can't trust anything in the NBA rumor mill this time of year. Asked about that, Stevens said, "Those guys are more in tune with everything else that's going on in the league. I'm really just focused on our guys and these draft workouts. By the time you run two of these in a day, if you're going to run them right, I spend a lot of time thinking about just that."