WALTHAM, Mass. -- Like the rest of the league, the Boston Celtics are attempting to obtain as much information as possible about Joel Embiid's medical issues, particularly the fractured right foot he recently had two screws inserted in, all with the goal of making an informed decision should Embiid become available to the team in next week's draft.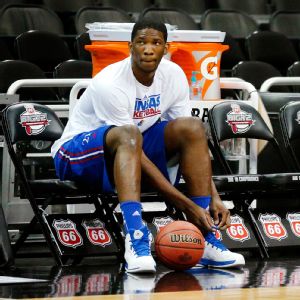 AP Photo/Orlin Wagner
Medical issues could leave the Celtics leery of drafting Joel Embiid.But the Celtics are unable to have team doctors examine Embiid as part of the pre-draft process, so Boston will be a bit blind when it comes to his long-term health.
"I think we all want to know exactly what [the injury prognosis] is," Celtics director of player personnel Austin Ainge said after the team hosted another pre-draft workout on Saturday. "But even when you have a lot of information, sometimes it's still just a best guess. I'm not sure what the conclusions will be by the doctors, and I'm sure, as with Avery Bradley and Jared Sullinger when we drafted them, the medical staff all had different opinions for every team. So it's hard to predict."
Pressed on how hard the decision might be if Embiid was available with the Celtics on the clock, Ainge smiled and offered, "Quite a gamble. I don't know. We'll see."
Ainge admitted that "foot and back -- those are not good body parts to injure," but said the Celtics often weigh the long-term effects of the injury rather than the amount of time the player will miss initially.
"We try to focus on the long-term health rather than that short term when you're dealing with draft picks," said Ainge. "Free agency, it might be a little different. But when you're drafting kids that are [age] 19, 20, 21, it's usually best to think, 'Two years or five years down the road, will it be a concern?' Those are the ones that we usually try to avoid.'
The Celtics have a recent history of taking chances on what some have perceived to be damaged goods. Avery Bradley chipped a bone in his ankle as part of a pre-draft workout and needed surgery, which contributed to him sliding to Boston at No. 19 in 2010. Two years later, disc issues allowed Jared Sullinger to plummet all the way to the Celtics at No. 21.
Both players missed time while needing surgery to repair their issues, but the Celtics were rewarded with high-ceiling guys who have elevated to starters for the team and could continue to be key parts of their future.
Bradley visited the Celtics for a pre-draft workout, so the medical staff was confident his injury would only temporarily stall his NBA career. Sullinger, pegged as a high lottery pick before the back injury became public, did not visit Boston and the team had to roll the dice a bit on him.
Ainge stressed that, despite the Celtics' recent success with injured draftees, they've also often passed on players whom the team's medical staff has red-flagged.
"It's case by case. There's been many, many guys we've passed on," said Ainge. "Our medical staff told us to pass on Greg Oden, our medical staff told us to pass on Brandon Roy. And Brandon ended up having some very good years, and that may or may not have been the right decision. It ended up costing [the Portland Trail Blazers] a lot of money in the end, but he did give them a great few years.
Added Ainge: "There's two we've taken the chance on, there's been many, many others that we've not decided to chance on."
After all the tireless effort the team puts into scouting players leading up to the draft, Ainge was asked if a pick might come down to what a doctor thinks.
"[Team doctors] make us aware of risks and try to explain things as best they can," said Ainge. "Yeah, [team physician] Brian McKeon, step up to the plate."
After noting the team would have passed on Oden because of his injury concerns, Ainge was pressed about whether that meant Boston would have indeed taken Kevin Durant had it landed the top pick in the 2007 draft.
"Yes, oh yes," said Ainge. "I personally was not working here at that time; I was in college. I came and I was in the draft room and they would have taken Durant. I did have some inside information there."