The Boston Celtics are set to embark on what they hope is a franchise-altering week. But how exactly that transformation will occur, just how seismic the moves they make will be, and how fast they'll see results from this part of the rebuilding process is anyone's guess.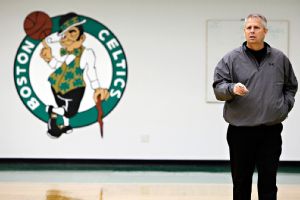 AP Photo/Michael Dwyer
Danny Ainge and the Celtics have big decisions to make this week.It's draft week and the Celtics own picks Nos. 6 and 17. The team's front office staff has relentlessly scouted an intriguing pool of incoming talent and will spend the days leading up to the draft trying to map out all the potential avenues the team might travel this week.
Of course, it's impossible to know exactly how the draft will play out or the domino effect that each pick will create for Boston.
The buzzword this week remains "fireworks," the term that Celtics owner Wyc Grousbeck used earlier this year to describe the potential for big-splash moves the team could make this summer to thrust it back into contender status after enduring a 57-loss season.
With that in mind, here's a look at five possible scenarios, each listed on a scale of 1 to 5 booms, that could play out on draft night:
KEEP THE PICKS (Fireworks scale: 1 boom)
With nine first-round picks over the next five drafts, the Celtics are positioned to pick their spots. While the team certainly desires to win sooner than later, it doesn't necessarily have to mortgage its future to land the first available superstar. There's value in patience.
So let's say that no draft-night trades materialize, either for established NBA talent or to move around the draft board. The Celtics might determine that it's their best play to simply trust their scouting process and pick the two best players available when they are on the clock.
In that scenario, Boston could walk away with someone like Marcus Smart or Aaron Gordon at No. 6, and Zach LaVine or T.J. Warren at No. 17 (and maybe even adding another roster hopeful by buying a second-round pick).
Boston would add those players to its young core and look to add more established talent down the road with its stash of assets still largely intact. This is the sparkler on a night when most want M80s.