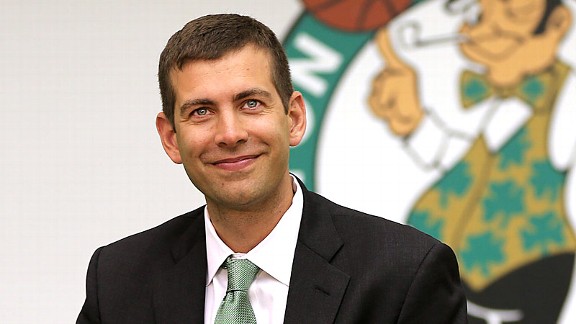 John Tlumacki/The Boston Globe/Getty Images
Brad Stevens smiles while being introduced as head coach of the Boston Celtics last July.WALTHAM, Mass. -- It seems impossible for Brad Stevens to appear more relaxed than he typically does. After all, he's renowned for his cool, composed demeanor.
Twitter Screenshot
Boston quietly announced the hiring of Brad Stevens.But it's impossible to ignore just how much more relaxed he appears these days. One full year removed from the surprise announcement that he was the new head coach of the Boston Celtics, Stevens exudes a noticeable uptick in confidence, likely a byproduct of familiarity, having now experienced a full cycle as an NBA helmsman.
Take draft night as an example. After Boston made its two picks, Stevens was asked how confident he was the team could take a step forward during the 2014-15 season regardless of what other moves the Celtics might make this offseason.
"I feel a lot better standing here today than I did on July 4 last year," said Stevens. "How much more comfortable I am at understanding the schedule of the NBA, the way you get the most out of our team, and the way to get the most out of our individuals."
Added Stevens: "Can I predict how many wins that creates? I don't predict that. I do think we'll be a lot more prepared from a standpoint of the big picture, both on the court and in our preseason and everything else, than I would have felt last year."
On Monday, as the team formally introduced rookies Marcus Smart and James Young, Stevens often reclined in his chair at the podium, his trademark smile on display as his rookies maturely answered questions about the history and expectations that come with putting on a Celtics jersey.
Stevens was reminded that it was just about a year ago that he sat in that same seat for his own glitzy introduction.
"I was coming off no sleep and limited meals for about 36 hours last time I was up there and then you're thrust in front of this and you're supposed to talk like you know what you're doing, other than you know the history and tradition," said Stevens. "I thought those guys did a great job for 18- and 20-year-olds sitting up there being asked all those questions. Because it is brand-new, and it's brand-new to them. And as much as you think you know what you're getting into, you don't."
At least to the untrained eye, Stevens rarely made rookie missteps during his first season on the bench. There were the obvious transitions from the college game, including the acclimation to a 24-second clock and the various ball-advance scenarios during timeout situations. Stevens had veteran NBA assistant Ron Adams alongside to help guide him through that first season and it's telling that Stevens didn't put a hard sell on the 20-year NBA coaching vet to stay last month as Adams pondered -- and later accepted -- a job with the Golden State Warriors.
As much as the 37-year-old Stevens benefited from Adams' knowledge and experience, and will miss having him in the "editor" role (as Stevens dubbed it), you get the sense that Stevens is confident in his ability to manage those situations on his own now. That's the reason he can confidently consider making someone like 39-year-old Jay Larranaga his top assistant.
On the one-year anniversary of his hiring Thursday, Stevens met with reporters at the team's training facility as Larranaga ran the team's summer squad through its final workout before trekking to summer league in Orlando, Florida. Stevens was asked about how different the summer session feels this time around.
"Obviously, it's night and day," said Stevens.
Flashback: How the Celtics landed Stevens
A detailed timeline of how the Boston Celtics inked Brad Stevens to a six-year contract last July. Story"When I came here last year, I really didn't want to interfere at all, and I'm trying my best to not do that again. We've all been together a year, I think the things that we are doing on the offensive and defensive end of the floor are things that we can see, and maybe not exactly by play-call names or those type of things that you'll do exactly later on, but it's all progress within our system now. And that's a really good thing, and that's the benefit of having continuity."
Added Stevens: "Jay's a great coach, I don't think there's any question about that. I don't know if it's necessarily growth -- he and I know how each other operate better. That's going to happen any time you have a staff of four guys that you've never worked with before. That was the great benefit of bringing Micah [Shrewsberry] and Ron Nored with me [given their Butler ties]. [The other assistants] could go ask them what I was doing, what I was thinking, or what I was talking about. That's really meshed well. I'm extremely pleased with our staff. I think they are all great, they all add great value. Like I said before last year, in hiring, I think you look for intelligent, humble people -- Jay's great at that, as is the rest of our staff."
As Stevens noted, it's unclear how much having been through a full NBA season will translate to wins and losses. It's fair to think that expectations will grow a bit. Last season he was the college wunderkind who inherited a flawed Celtics roster and endured a 25-57 rebuilding season. Regardless of the "fireworks" (or lack thereof) this offseason, he will be graded a little more harshly based on the progress that Boston makes.
But Celtics president of basketball operations Danny Ainge continues to rave about his hire. Ainge has often suggested he'd offer Stevens an extension on top of his current six-year pact if he could. Ainge loves his coach's attitude and work ethic and believes that will help him continue to grow and develop as a coach.
"I think Brad did a great job [during the 2013-14 season]," Ainge said before Boston's season finale. "He's a special person and a great coach. The players see it. The players see his work ethic, they see his integrity and they see his intelligence. So I think he earned the respect of the team in a really difficult situation this year and I know he's going to get better. He'll be better this year and the year after he'll be better than he was next year. He's a sponge and he's very intelligent with a great work ethic and I couldn't be happier."
Added Ainge at the time: "I think Brad is a lot smarter than I am at coaching, and he has a lot more experience than I did. But I remember in my first year coaching I took away from the fact that I needed to simplify the game rather than try to do too much. I think Brad figured that out during the course of this year. I think that every team is unique and different as well. I have no worries about Brad. Brad is maybe the only thing in our whole organization that I'm not concerned about."