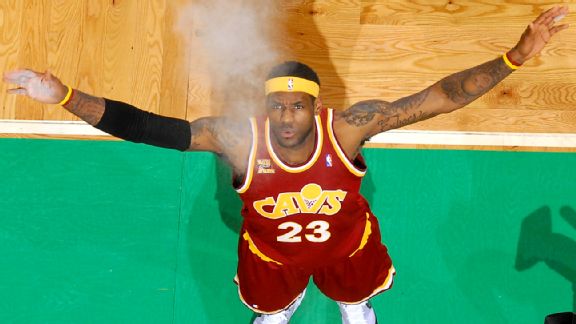 Brian Babineau/NBAE/Getty Images
The next time the Celtics see LeBron James, he'll be back in the Cavaliers' colors.A handful of thoughts after LeBron James told SI.com on Friday that he is returning to the Cleveland Cavaliers:
• C'S PLAYED ROLE: The Boston Celtics played a small part in helping James land back in Cleveland by absorbing salary as part of Wednesday's three-team trade with the Cavaliers and Brooklyn Nets. In acquiring Tyler Zeller, Marcus Thornton and Cleveland's 2016 first-round pick, Boston helped the Cavaliers create enough cap space to offer James a maximum contract. The Celtics facilitated the deal knowing full well what Cleveland was trying to do. As Celtics president of basketball operations Danny Ainge said Thursday: "It could end up being a good deal for [the Cavaliers]. We're all waiting to see what's going on with their cap space. I wish I was in their position."
• NEW BEAST OF THE EAST? While James acknowledged in his essay on SI.com that it could take some time to establish Cleveland as a championship contender, that didn't stop some from installing the Cavaliers as the favorite to immediately win next season's title (Bovada.lv moved them to 4-1, while the Heat plummeted to 50-1, essentially flip-flopping previous odds). But James' hopping from one Eastern Conference team to another is unlikely to change the complexion of the East, too much. Said Ainge: "Wherever LeBron goes, the team is a contender. That's how good a player he is."
• C'S FANS WON'T LOVE THIS: The one thing that James' return to Cleveland might have done is further remove Boston from the hunt for Kevin Love. The Cavaliers could potentially turn around and try to peddle recent top picks like Andrew Wiggins or Anthony Bennett to Minnesota in exchange for Love. That's a far more glitzy rebuilding package than even Boston, with its surplus of picks, can offer. If the Celtics truly covet Love, their best chance might be if he makes it through to unrestricted free agency next summer when Boston has the potential to free some serious cap space.
• NO SCHADENFREUDE FOR AINGE, BUT CELTICS FANS ... : Ainge previously drew the ire of Heat president Pat Riley, who told the Celtics GM to "Shut the f--- up and manage his own team." But Ainge contends he will take no pleasure in watching James leave Miami. "No, I don't take any pleasure in anyone's pain," said Ainge. "I know this is a tough business [with] free agency, and it's all part of what we all go through. I certainly don't take any joy in seeing great players leave organizations that have been good to them." Ainge might not take pleasure in watching James leave Miami, but Celtics fans certainly will. After the Heat got the better of Boston, lured away Ray Allen, and essentially ended the C's Big Three era, Boston fans will revel in bringing Miami back to the pack.
• CAVS A HOT TICKET: When the NBA schedule is released in August, it's fair to say that Celtics-Cavaliers games will be a bit more popular than in recent seasons. The Boston-Cleveland rivalry was among the league's best when the C's Big Three were antagonizing James, and the Celtics certainly wouldn't mind rekindling that at some point as both teams seek to return to contender status.
• DOMINOES CAN START FALLING: While the first week and a half of free agency hasn't lacked drama, James' decision will likely help dominoes start falling across the league. Now Chris Bosh and Carmelo Anthony can make decisions about their futures. The trickle-down effect will allow Boston to maneuver further, something the C's must do since they have 17 players under contract and are over the luxury-tax line at the moment. The Celtics might not make a big splash this summer, but expect them to continue to eye moves that can reduce the roster logjam and bring back additional future-minded assets.