Nerlens Noel, the Everett, Massachusetts native who missed all of his rookie season with the Philadelphia 76ers while recovering from ACL surgery, said Boston Celtics point guard Rajon Rondo was the "biggest helper" while working his way back.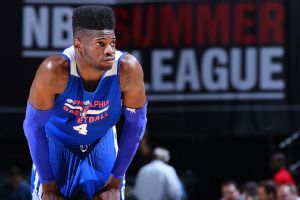 Jack Arent/NBAE/Getty Images
Nerlens Noel said Rajon Rondo was a big influence in his rehab from ACL surgery.From a Q&A with CBSSports.com:
Is it important to you now that you've been through it to talk to other guys if they go down with that same injury?

Noel: Oh yeah, yeah. Definitely, definitely. With all the support and love, certain guys, especially Rajon Rondo -- he was definitely the biggest helper through this whole process, he actually gave me his phone number and told me I could hit him up whenever about it. Being from Boston, watching him growing up, and he went through it and he came back as strong as possible, actually before me, so it gave me a lot of confidence, having his good faith.

Is that kind of crazy, being a Celtics fan growing up, to get to know him on a personal level?

Noel: Yeah, definitely. That's definitely what made it even more of a thrill. Being able to interact with Rondo and get good advice from him, 'cause he's more of a veteran point guard now in this league, gone through so much with the Big 3, he's a world champion, he's a player who's very mature in this league now. So definitely, it was crazy. I took a lot from him.