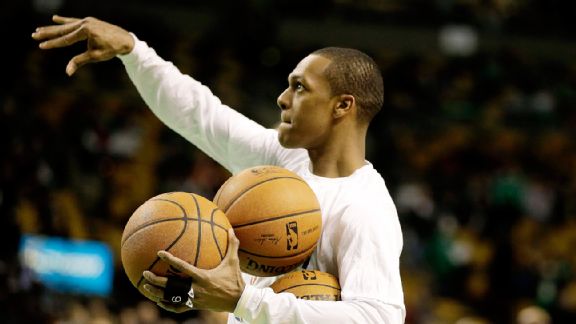 AP Photo/Stephan Savoia
Will Rajon Rondo have his best season in green this year?To wrap up Week 1 of our Celtics Summer Forecast, we asked our panel whether Rajon Rondo would have the best season of his career during the 2014-15 campaign. The question split our panel in half (with the "yes" votes edging "no" by one vote in our 15-member panel). We put the same question to our readers and it produced similar results.
Here's a sample of the best responses:
Jon (No)
Rondo is a walking triple double and a fearless player. He is one of my top 5 favorite Celtics of all time. He has always been underrated at what he does -- create for others, rebound well, and defend (at times) at high level. For him to have his best season is to do what he has done every other season: make his team better. In my opinion, the only way to have a career year is for him to increase his long-range shot, and his free throw percentage. Although he showed improvement, I'm not convinced he can punish the defense this way.
James (Yes)
His shooting is getting better and better, and it's a contract year on a team lacking in firepower, so he'll be putting up shots. Imagine a whole year of national TV Rondo. He may not go that big, but it should be his year for sure.
@Ededrick4 (No)
Don't get me wrong Rondo will have a very good year but this team isn't structured for him to have the best season of his career. Rondo is an amazing point guard, but is a pass-first point guard who needs scorers around him to succeed. The 2014-2015 roster, at the moment, does not offer much for Rondo to run an offense like he truly can. I do believe he will score a bit more this season and show the league he can do a little more than pass the ball, but he won't have his best season.
Zack (Yes)
With a full offseason of recovery from any lingering effects of the ACL tear, combined with this being a contract year for Rajon, expect him to put up close to career numbers. Averages of 13.7 points/5.6 rebounds/11.7 assists is his best stats taken from different seasons. With less scoring options than his last full season of play (2011-12), expect Rondo to eclipse the 13.7 ppg mark. With an increased offensive role, fans should expect him to shoot around 45-48 percent this year (career high is 50.8). The assist numbers probably won't quite reach the career high of 11.7, but can definitely get close to that. Will Rondo treat every game in his contract year as a nationally televised game and blow away everyone's expectations? We'll find out.
Alec (No)
I believe he'll play great in the first half, driving his trade value and potential free agent contract through the rough. However, Danny Ainge should trade him on the high in January if he's unable to land good talent around him. There's no need for him to be here during a rebuilding process so get what you can for him.
@netrics07 (Yes)
Whether Danny Ainge plans on trading him or not, it is in Rondo's best interest to perform on an All-Star level night-in and night-out. He is basically auditioning for that max contract, either with Boston or another team. Hopefully he stays with the Celtics, and if he sees the improvement and competitiveness, he might be willing to wait for that high-profile player in next year's free agency. Keeping my fingers crossed, both in my hands and feet, that he stays.
Jacob (No)
Rondo had his best season with the title team that featured KG, Paul Pierce and Ray Allen. If we are only speaking in terms of stats then I think the addition of Marcus Smart could ultimately hinder him, possibly cause drama and will most likely result in Rondo being pushed out of Boston. The trade rumors will definitely put a damper on Rondos season in more ways than Ainge saw coming.
Siby (Yes)
I strongly believe Rondo will in fact have the best season of his young career. I expect career highs across the board. Regardless of what the media has to say, I love Rajon. Rajon is a very high-IQ player who is a naturally gifted passer with excellent court vision and elite instincts. RR has fire. He is a gritty competitor. I don't think he knows what it means to give up. He is a leader and someone the Celtics could build around for years to come. Rondo will come back stronger than ever. He will be even more aggressive in the paint, have a reliable mid-range jumper and would have added a 3-point shot that will garner respect in short order. The addition of Marcus Smart and the resigning of Bradley is going to benefit Rondo the most. When Rondo is put in a position to succeed, he makes his teammates that much more better and the team succeeds. Rondo will average a healthy double-double in points/assists for the season. I expect him to put up the highest scoring output of his career. I look forward to watching Rondo the passer extraordinaire -- the best point guard in the NBA.
Brian (No)
He should certainly be motivated to have his best season, but a pass-first point guard needs talent around him to have a great season and Rajon does not have that luxury. That said, he'll have a good year and Rondo/Bradley/Smart is going to be a fearsome rotation in the back court defensively -- oh, if they could only put up points too!
Nemo (Yes)
As enigmatic as Rajon Rondo is, there is one thing that we all know: he's going to get his. He plays at his best in national TV games and in the playoffs because that's when he is by far his most interested. He has millions and millions of future reasons to be interested in his results this year and you might be seeing national-TV Rondo performances more nights than not over the course of this season.