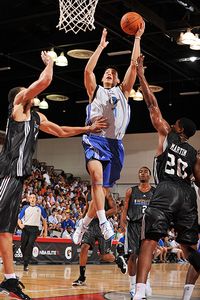 Garrett W. Ellwood/NBAE/Getty
A scout said of Jeremy Lin's play in Las Vegas: "He showed that he can be an NBA point guard."ESPN.com's Marc Stein details how Harvard product Jeremy Lin is close to inking a deal with the Golden State Warriors:
The Golden State Warriors are closing in on signing summer-league sensation Jeremy Lin, according to sources with knowledge of the talks.

Sources told ESPN.com on Tuesday that the Warriors, by offering to guarantee more than half of Lin's potential first-year salary of nearly $500,000, have reached an agreement with the point guard from Harvard.

Lin is expected to receive a multiyear deal, sources said. The deal has not been signed.

Lin's Bay Area roots and consistently strong performance with the Dallas Mavericks' squad in Las Vegas prompted the Warriors to chase Lin hard and ultimately outbid a handful of teams that have been pursuing him since summer-league play ended Sunday.

The Mavericks and Los Angeles Lakers were among the first teams to try to sign the 6-foot-3 guard for next season, but agent Roger Montgomery told ESPNDallas.com on Monday that the publicity Lin attracted for outplaying prized Mavs youngster Roddy Beaubois -- while routinely flashing better-than-expected athleticism in the process -- generated a clutch of new offers.
Click HERE to read the full story.