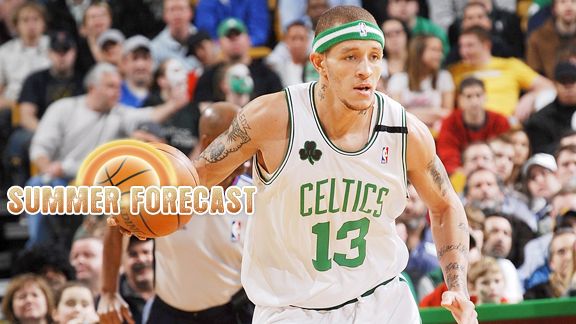 Brian Babineau/NBAE/Getty Images
What are reasonable expectations for Delonte West? Our panel weighs in.Barring any last-minute shuffling, the Boston Celtics capped off the roster they'll carry into training camp later this month with the addition of Delonte West. So what can we expect from the soon-to-be seventh-year guard?
That's the question we put to our panel of 18 writers from eight of our favorite Celtics blogs for the 13th installment of ESPN Boston's Celtics Summer Forecast. West is truly a wild card and his off-the-court troubles will sideline him for the first 10 games of the season, putting him a bit behind when it comes to defining a role on this year's squad.
But our panel expressed great optimism about West's ability to find a role with this team, pegging him as the potential first guard off the bench, adding much-coveted depth behind both Rajon Rondo and Ray Allen with his ability to play both guard spots.
Asked to guess his season stat line, however, our panel seemed more guarded, and their projections averaged out at 7.6 points and 2.5 assists over 17.1 minutes per game. It seemed a bit on the low side for a player who has averaged 10 points and 3.7 assists over 28.4 minutes per game in his first six NBA seasons.
Recent history certainly suggests that players should expect a decrease in their stat lines when coming to Boston, due in large part to the depth of the squad and how contributions are spread out over the roster. And considering West averaged 8.8 points and 3.3 assists over 25 minutes per game in a reserve role with Cleveland last season, maybe our panel's guesses are on point.
Click HERE to read the full story.