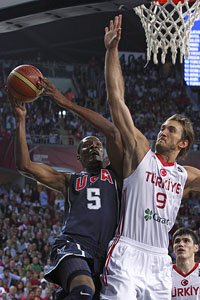 AP Photo/Thanassis Stavrakis
Neither Semih Erden nor his teammates could slow Kevin Durant and Team USA Sunday.Celtics rookie center Semih Erden settled for silver at the 2010 FIBA World Championships as host Turkey fell to the United States, 81-64, in Sunday's championship match in Istanbul.
Erden chipped in nine points on 4-of-5 shooting with two rebounds over 18 minutes off the bench for Turkey. But his tournament-long struggle at the charity stripe continued as he missed 4-of-5 freebies, negating his ability to get to the line.
For the tournament, Erden averaged 9.1 points, 4.6 rebounds and 1.2 assists per game in nine appearances.
Erden doesn't have long to rest as Celtics training camp opens Sept. 27 in Waltham. After a brief introduction at the team's summer league in Orlando in July, Erden will now attempt to crack the rotation in a beefed-up frontcourt. He showed raw potential during the world championships, but an inability to rebound, coupled with his struggles at the free throw line, suggest he'll need more fine-tuning before he's ready to succeed at the NBA level.
Practices alongside Shaquille O'Neal, Jermaine O'Neal and -- when healthy -- Kendrick Perkins should go a long way toward improving his ability to get physical around the basket. But Erden did display a strong ability to pass out of the double-team and a nice scoring touch around the basket. So there's a solid base to build around based on his play at the world championships.