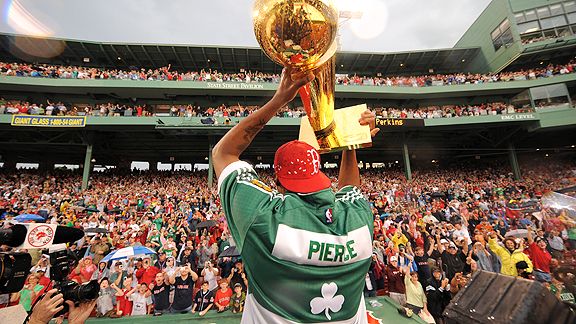 Brian Babineau/NBAE/Getty Images
Paul Pierce's second visit to Fenway Park Friday turned out to be as magical as the first.WALTHAM, Mass. -- A collection of news and notes after the Boston Celtics practiced Saturday afternoon at the Sports Authority Training Center at HealthPoint:
The rundown (a quick look at practice headlines)
* Celtics invade Fenway Park for softball practice
* KG revels in Boston's team-building process
* Video: Harangody highlights Saturday scrimmage
CELTICS INVADE FENWAY PARK FOR SOFTBALL SCRIMMAGE
The first time Paul Pierce stepped onto the field at Fenway Park was pretty magical and he clutched the Larry O'Brien trophy as the 2007-08 world champion Celtics made a victory lap around the hallowed baseball grounds. It seemed like the next visit could hardly live up to the initial tour.
But when Pierce and his teammates gathered at the lyric little bandbox Friday -- the idea of bringing another world title back there next June in mind -- he came away gushing about a team-building exercise that allowed the Celtics to enjoy a intrasquad game of softball in the shadow of the Green Monster.
"That was my second time on the field at the stadium, but that was one of the best days of my life, actually," Pierce revealed Saturday after Boston's afternoon practice. "That was a fun day, man. Y'all had to be there to know what I'm talking about."
Fortunately, the Celtics did enough talking -- and Tweeting -- to give us a glimpse into the experience. It turns out point guard Rajon Rondo organized the adventure, which led nearly the entire Celtics organization (sans coach Doc Rivers) to invade Fenway on a perfect fall afternoon that few will soon forget.
"A fun day, we had our families out there," said Kevin Garnet. "A beautiful day at Fenway Park. It was a dream come true, I felt like I was 10 years old again."
According to Shaquille O'Neal's Twitter, Team Rondo -- which included Shaq, Pierce, and Celtics president of basketball operations Danny Ainge -- emerged with a 32-25 triumph over Team Garnett on the strength of the event organizer's MVP performance (which Nate Robinson suggested included three home runs).
Pierce joked he hit only .100 for the day, but noted he earned Gold Glove honors in the field. Not even a lackluster day at the plate could take away from the experience.
"We're a close-knit group," said Pierce. "All the personalities out there, it's about team chemistry and team bonding. It's all fun. We have a great group of guys, that's why we do things like that. Top to bottom, everyone likes one another and it's fun doing trips like that. All it's doing is building our chemistry."
Rivers joked that he heard Red Sox GM Theo Esptein was in attendance, but left early based on the lack of talent on the field. He also ragged on Ainge for not being mentioned among MVPs (Rondo, Jermaine O'Neal, and Von Wafer earning top accolades) despite playing three major league seasons with the Toronto Blue Jays before his NBA career.
Jermaine O'Neal said he felt slighted after being the second-to-last pick in the draft (his sore hamstring and a need for a designated runner hurting his stock), but produced the day's first homer in his first plate appearance.
"I was the first one to take it yard," said Jermaine O'Neal with a smile. "On the bus ride over, I couldn't believe I was second-to-last in the draft. I heard the names coming, and you never really listen to the names other than your own. It was me and then like one of my trainers. I'm like, 'Man, I'm better than that.' The first at-bat, I took it yard and felt pretty good about that."
Rivers joked the Celtics will return the favor for the Red Sox soon at TD Garden.
"We're going to challenge the Red Sox now to a baksetball game," said rivers. "With baseball, I don't think we're going to win."
@The_Real_Shaq/Twitter Photos
The Red Sox invaded Fenway Park for a softball game Friday afternoon.
KG REVELS IN BOSTON'S TEAM-BUILDING PROCESS
Asked if any other teams in the league participated in team-building experiences like Friday's Fenway Park experience, Garnett made sure to stress how unique the current situation in Boston is.
"We sure as hell didn't do it in Minnesota," said Garnett, taking a friendly swipe at his under-performing Timberwolves squads. "I haven't heard of anybody else in the league doing it, not like here. I'm always surprised at what we do here. We're having a blast. We come in here, bust each other's [butts], we go at each other pretty hard in here and Doc lets us be competitive and who we are. Off the court, we try to relax, get to know one another.
"It just so happens we have more people that Tweet than any other team in the league. That's why [reporters] probably all know what's going on in our locker room. But we're having a good time. We work hard, but also we play hard."
But do those bonding experiences truly help a team win on the court?
"It certainly doesn't hurt," said Garnett. "The more you do together, the more activities you have together, the more you get to know each other. The more 1-on-1's you have, this is a competitive job in which we're used to playing against each other. Now we're coming together for a common goal and it's all good so far."
VIDEO: HARANGODY HIGHLIGHTS SATURDAY SCRIMMAGE
The Celtics closed Saturday's session with a shortened intrasquad scrimmage (which the starters hung on to win). But the highlight of the 1st team vs. 2nd team battle came when Luke Harangody beat Garnett while hustling through the paint for a layup off a nice feed from Glen Davis. The play earned an emphatic fist pump and clapping from Rivers, who added a little "attaboy" pat on Harangody's backside during a break in the action soon after.
(For practice videos and interviews, check out our YouTube page at http://www.youtube.com/espnforsberg