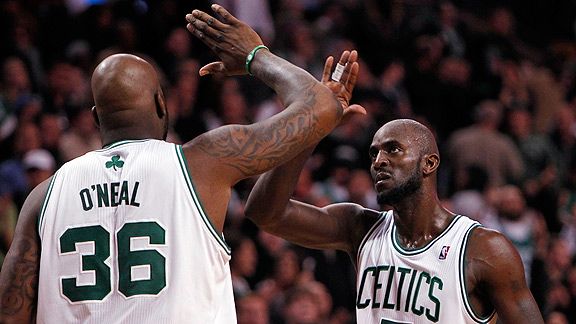 Greg M. Cooper/US Presswire
WALTHAM, Mass. -- Under fire from critics, Kevin Garnett is receiving support from those closest to him.Just days after coach Doc Rivers came out in staunch defense of him, Boston Celtics forward Kevin Garnett got more support Wednesday from president of basketball operations Danny Ainge and teammate Ray Allen.
"I don't even comment on that stuff," said Ainge. "It's just so insignificant. I will just say this one thing about KG: There's not a team in the league that wouldn't die to have him, and there's not a coach or general manager in the league, or fans, that wouldn't wish that every one of their players played like Kevin Garnett. And that's all I'll say about it."
Then Ainge got in one more jab at the pundits, suggesting that such a list of coaches and general managers that would die to have Garnett also included, "those that are criticizing him."
Allen, among the game's most respected players, said Garnett's on-court image doesn't necessarily match what you'd find off the court.
"I always said with certain guys in the league, you have your on-court persona and then you have your off-court [persona]," said Allen. "You don't really have to be liked when you're playing basketball. You just want to win games and you want everybody to be afraid of your team because you guys are tough. So, I'd take that any day over somebody thinking that we were soft and you could run us over and you could beat us up because we're either a small team or a soft team. Nobody can mistake us for that, so I like having him on my side."
With Garnett under fire from luminaries like Spike Lee, Alvin Gentry, and Phil Jackson in recent days, coach Doc Rivers rallied in support of his star forward on Monday night in Charlotte.
"That means he's on their mind, that's fine by me," Rivers said. "Kevin does nothing wrong, he plays the game the right way. I think all these people that call him out would take him on their team right now. Other than that, I could care less about that stuff."
He later added: ""[The criticism] says that our team is pretty good. When they were bad in Minnesota, you heard nothing. So that's all it is. Kevin's not going to change. Kevin's a terrific player, he plays the right way. I think all coaches would love their players to play like Kevin Garnett, to be like Kevin Garnett, and act like Kevin Garnett. I don't worry about it."