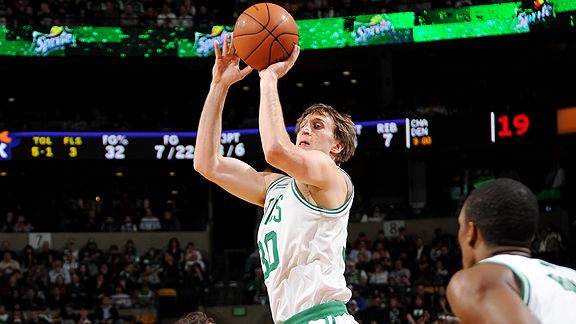 Brian Babineau/NBAE/Getty Images
Troy Murphy gets up a shot in his first game with the Celtics.WALTHAM, Mass. -- After having not played in an NBA game for almost two months, Troy Murphy's first four days as a member of the Boston Celtics have resembled training camp more than anything else. The Celtics aren't necessarily anticipating double-digit scoring or rebounding efforts quite yet from the accomplished NBA big man. Instead, like Murphy, they understand the adjustment period is a process, and the emphasis right now continues to be on Murphy learning the ins-and-outs of their system.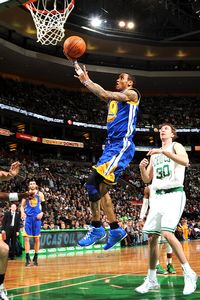 Brian Babineau/NBAE/Getty
Troy Murphy is still working out the kinks at both ends of the floor.Murphy's already logged time in two games for Boston, and despite having shot a combined 0-of-7 in those contests, he's remained patient and optimistic, clearly unfazed by those shooting statistics. The rust is to be expected given Murphy's long layoff following a fallout with his former team, the New Jersey Nets. Instead of participating in game action since Jan. 7, Murphy's been working out in a gym by himself, doing his best to maintain his shooting stroke.
Celtics coach Doc Rivers said he is more than willing to stay patient with Murphy as he readjusts to the speed of an NBA game.
"He's going to miss shots, he's going to be streaky," Rivers said following his team's practice at the Sports Authority Training Center at HealthPoint on Saturday. "When you haven't played an NBA game in a while, it's just tough to get that speed down. But it'll come. As long as it's there by the playoffs, I'm happy."
Rivers understands the importance of getting reacclimated to the NBA pace, which is why he offered some very simple advice to his new power forward.
"Just keep shooting," said Rivers. "Troy, I don't think I have to say that to anyway, but if I have to, I will. Because that's what he does."
Murphy's a career 39-percent 3-point shooter, which is a large part of the reason why he's confident his shooting touch will return as he continues to participate in game action.
"It's going to come," Murphy said. "I know I can shoot. It's just getting my legs there and getting used to running up and down the court again and playing in games.
"I think it just takes being in practice, knocking down shots, taking shots. Being in the game, same thing. I've taken thousands of shots over the past couple months by myself in the gym, but you can't really replicate until you get in the game-type situations."
Murphy's taken a day-by-day approach to the entire process, which also includes mastering the Celtics' offensive and defensive schemes. There have been two constants following the Celtics' practices on Thursday and Saturday: Murphy, along with fellow newcomers Jeff Green, Nenad Krstic, Sasha Pavlovic, and Chris Johnson, and rookie guard Avery Bradley, staying after the official sessions concluded to run through different sets with Celtics assistant coaches. For nearly 30 minutes on Saturday, Murphy and Co. worked on defensive drills like closing out and boxing out, before switching to the offensive end and working through different sets, with an emphasis on explaining the multiple options that exist within each play.
The advantage there is that five of the six players participating in the drills have been with the Celtics for no more than 10 days, which allows them to pick up on things together. Murphy acknowledged having his new teammates around him has helped to make things easier.
"It does help," he said. "We're here early before practice going over things, we stay late, and when someone asks a question it's for the whole group, and we can learn off each other's mistakes and things like that, so it definitely makes it a lot easier."
The learning process is undoubtedly a length one, but so far, Murphy's put the necessary time in. On top of spending extra time on the floor running through the different sets, Murphy has set aside time to meet individually with his new coaches, and has also received and reviewed DVDs of the team's tactics. The Celtics are taking things one step at a time, however. Murphy's only been introduced to some of Boston's most basic schemes, and once those are mastered, more will follow.
"I think getting the terminology, the things we have to say on pick-and-rolls and things like that is different with each team," Murphy said. "Being able to communicate with the guards clearly and loudly, I think will be the thing that I'm trying to focus on the most now."
Murphy hasn't necessarily forgotten the terminology from some of his former teams, either. When asked if being away from a team for a few months prior to joining the Celtics gave him a chance to wipe his former team's system from his mind, Murphy said his archive of team plays extends back many years.
"I've got plays from like four teams ago, and then [I'm] trying to learn scouting reports from other teams," Murphy said with a laugh. "Yeah, we have plays. It's a lot of the same stuff, just different calls."
Greg Payne is a student intern for ESPNBoston.com